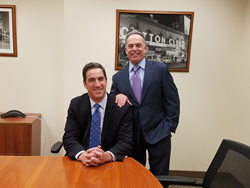 From changing health insurance policies at the federal level, to transformations on the state level, it's more important than ever for businesses to have a firm grasp of the benefits landscape.
White Plains, NY (PRWEB) April 23, 2018
Navigating the realm of insurance is daunting for businesses of any size. And in 2018, the regulations that drive the benefits landscape are only getting more complex.
Today, as business owners across metro New York near the end of Q1, JDM Benefits is providing an Insurance Industry State of the Union — an overview of five major trends, and an invitation to connect with our executive team and learn more.
"Already, 2018 is proving to be a watershed year for the insurance industry," says JDM Benefits President Joseph D. Moschitto, CPA. "From changing health insurance policies at the federal level, to transformations on the state level, it's more important than ever for businesses to have a firm grasp of the benefits landscape."
JDM Benefits — headquartered in White Plains — provides personalized insurance and benefits services to clients of all sizes and across a range of industries. The firm draws on its veteran leadership team, its 25-year pedigree, and its valuable partnerships (which includes affiliations with Levitt-Fuirst Associates and NFP BenefitsPartners) to deliver customized solutions every client. JDM leverages high-touch customer service and cutting-edge HR technology so clients can focus on what matters most: running their core business.
Below, Joseph Moschitto and James D. Schutzer, JDM Vice President, survey today's insurance industry landscape:
The Individual Mandate
The summary: Since 2010, the most-talked about element of the Affordable Care Act has likely been the individual shared responsibility payment, or the "individual mandate." It's the fee imposed for not having health insurance. In 2017, this penalty was repealed by Congress; the repeal will go into effect in 2019. Though the mandate technically remains in effect, penalties have been eliminated.
A word from JDM: "The impact of the repeal is nominal — the penalties were minimal to begin with," Moschitto says. "But business owners, take note: While the individual mandate on the federal level is going away, several states are considering putting their own versions in place. Proposals for a state-set individual mandate are percolating in California, Connecticut, and elsewhere across the country. It's important to know where your state stands."
Tax Exclusion and Employer-Sponsored Health Insurance
The summary: Currently, employer-sponsored benefits are exempt from income and payroll taxes. Language to eliminate or limit the exemption appeared in several drafts of Affordable Care Act repeal legislation last year, but ultimately failed to gain traction.
A word from JDM: "Eliminating the employer exemption would be catastrophic to the group insurance market, as it would lead to significant reductions in benefits and reductions in income for the over 175 million people who are covered by employer-sponsored plans," Schutzer explains.
The Cadillac Tax
The summary: The "Cadillac Tax" is the colloquial name for the Affordable Care Act's high-cost plan tax. It is a 40% tax on employer plans with premiums above a certain threshold: $10,200 in annual premiums for individuals, and $27,500 in annual premiums for families. The tax is not currently active; it was delayed and will be introduced in 2022.
A word from JDM: "Two years may seem like a long time, but businesses need to start preparing for this tax today," Moschitto says. "Imposing this tax, particularly in the Northeast where premiums are higher, would lead to reductions in benefits and increased out-of-pocket costs to consumers."
'Small Group' Definition Change in New York
The summary: New York remains one of only four states that currently define "small group" as fewer than 101 employees. The change from one to 50 employees to one to 100 employees led to significant increases in premiums for many employers with between 51 and 100 employees, as well as fewer carrier and network options, and more limited plan design options.
A word from JDM: "A bill has passed the New York State Senate for the third-consecutive year that would return the small group definition to employers with between one and 50 employees," Schutzer explains. "It is currently awaiting release by the Assembly Insurance Committee for consideration."
Reference Based Pricing
The summary: Referenced based pricing (RBP) is a newer concept starting to break into the Northeast. Employers with a partially self-funded plan rely on a "leased" network for their discounts when their employees utilize healthcare. This contracted rate is what the employer is responsible to pay (outside of the employee's copay, deductible, etc.).
A word from JDM: "This market is generally slower to adapt to change, but RBP is proving to save employers money in other parts of the country," Moschitto says. "Hospital and major surgical costs have exploded, and RBP addresses this issue by identifying the true cost basis and providing payment based on this data. RBP looks to further peel back layers of hospital and high cost surgical claims and offer a more 'fair' payment. In return, the employer's costs are lowered. The one challenge to RBP is the potential for balanced billing, but there are RBP vendors employers can work with to assist in defending the payment. "
ABOUT JDM BENEFITS
Established in 1993, JDM Benefits provides HR solutions with the personalized service of a boutique firm and the resources of a national consultancy. JDM is expertly-versed in the ever-changing legislative landscape and regulatory issues which impact clients on a local, state and national level, and has a reputation for creating hard-working solutions and cost reductions for their clients' benefits plans. JDM has a partnership with NFP, the 11th largest insurance broker in the country. The company touts a client retention rate of 95%. For more information, please call (914) 644- 9203 or visit http://www.jdmbenefits.com.