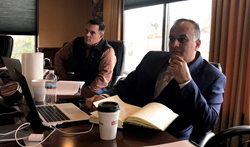 "The addition of Larry and David to the Webbula team is impressive and should only strengthen their position as the industry leader in email hygiene and data appends", said Chris Arrendale, CEO Inbox Pros
PITTSBURGH, Penn. (PRWEB) April 20, 2018
Webbula is proud to announce that industry veterans Larry Karipides and Dave Sanders will be joining the rapidly growing Webbula staff as Vice Presidents of Strategic Partnerships effective immediately. Both Larry and David will be responsible for building both exisiting and new relationships with current and new clients and industry partners. "We are incredibly excited to welcome both Larry and David to our team," Vince Cersosimo, Webbula CEO said, "They both bring a tremendous depth of experience and industry knowledge that will prove to be invaluable to both our existing and new client partners. The addition of Larry and David strengthens the world-class team that Webbula is building to help bring our products to a larger audience."
Larry Karipides was most recently Senior Director of Partner Alliances at Return Path in New York. He brings a history of proven, results-oriented experience in the email industry to the position at Webbula. His track record includes both agency and email provider experience with Experian, CheetahMail, Walter Karl Interactive, American List Council and more. He spent over twelve years at Return Path, leading sales teams and building an impressive roster of clients, most recently building and managing over $1.5 million in North American sales. Larry will continue to operate out of the New York City region for Webbula.
Dave Sanders joins Webbula from eDataSource in Atlanta where he served as Director of Sales from the past year. Before that he spent two years at Experian (CheetahMail) before it was divested by Vector Capital. His experience in the email industry also runs deep with sales positions with Infor, IBM (Silverpop Engage), Whoop Mobile, Business Wire and Cision. His focus on email deliverability and intelligence analysis will prove to be especially important to Webbula's current and new client partners in the coming months. Dave will continue to operate out of the Atlanta region for Webbula.
"The addition of Larry and David to the Webbula team is impressive and should only strengthen their position as the industry leader in email hygiene and data appends", said Chris Arrendale, CEO Inbox Pros, "I'm excited to hear about these additions and our team looks forward to working even more closely with Webbula going forward."
The addition of Larry Karipides and Dave Sanders expands and strengthens the client services and sales team at Webbula, enhancing the company's knowledge and ability to provide our clients - both current and future - with the world class solutions they rely on.
For additional information, please contact Bryan Ward, Chief Marketing Officer, at bward(at)webbula(dot)com or at 888.993.2285