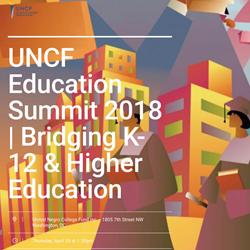 WASHINGTON (PRWEB) April 23, 2018
On April 26, UNCF (United Negro College Fund) will host an education summit that will coincide with the release of a new research report, A Seat at the Table: African American Youth's Perceptions of K-12 Education, highlighting input from African American students and their ideas about reforming education.
WHO:
Dr. Michael Lomax, president and CEO, UNCF
Sekou Biddle, vice president K-12 Advocacy, UNCF
Dr. Meredith B.L. Anderson, senior research associate K-12 Advocacy, UNCF
Naomi N. Shelton, national director K-12 Advocacy, UNCF
Panelists

Jamar McKneely, chief executive officer and co-founder, Inspire NOLA
Erika McConduit, chief executive officer, Urban League of Louisiana
Dr. Joseph Davis, Esq., superintendent, Ferguson-Florissant School District
Khalia Murray, former UNCF-Walton K-12 Fellow and DC Prep pre-K teacher
Dr. Roderick L. Smothers Sr., president, Philander Smith College
Mendell Grinter, founder and executive director, Campaign for School Equity
Wil Del Pilar, vice president of Higher Education Policy and Practice, The Education Trust
Erika Harrell, data manager, DC School Reform Now & Parent
WHAT:
The UNCF Education Summit will serve as a discussion for the student perspective on education, a call to action on pre-K-college issues, and a platform for engagement and exploration of the role of African American voices—
specifically HBCUs—in education reform efforts.
WHEN:
Thursday, April 26, 2018 1:30 – 3:30 p.m.
WHERE:
UNCF College Knowledge Center
1805 7th St., NW
Washington, DC 20001
BACKGROUND: During the last five years, UNCF and its K-12 Advocacy team have released various reports to amplify the need to improve outcomes for African American students and shift the narrative of what is possible for all students. UNCF's inaugural report, Done to Us, Not With Us: African American Parent Perceptions of K-12 Education, was released in 2012. This report explored how low-income African American parents and caregivers view the K-12 education system and their role in supporting their children. In 2017, UNCF released the second report in our African American perceptions series, Lift Every Voice and Lead: African American Grasstops Leaders' Perceptions of K-12 Education Reform and the Lift Every Voice and Lead Toolkit: A Community Leader's Advocacy Resource for K-12 Education.
With the release of the third report in our perceptions research series, A Seat at the Table: African American Youth's Perceptions of K-12 Education, UNCF continues to amplify voices that are often overlooked in education discussions.
MORE INFO: Click here to register for the summit and for more information about UNCF's K-12 Advocacy, efforts, please visit the UNCF website.
Follow the discussions on Twitter: @uncf @drmichaellomax #UNCFK12 #UNCFEdSummit
About UNCF
UNCF is the nation's largest and most effective minority education organization. To serve youth, the community and the nation, UNCF supports students' education and development through scholarships and other programs, strengthens its 37 member colleges and universities, and advocates for the importance of minority education and college readiness. UNCF institutions and other historically black colleges and universities are highly effective, awarding nearly 20 percent of African American baccalaureate degrees. UNCF awards more than $100 million in scholarships annually and administers more than 400 programs, including scholarship, internship and fellowship, mentoring, summer enrichment, and curriculum and faculty development programs. Today, UNCF supports more than 60,000 students at over 900 colleges and universities across the country. Its logo features the UNCF torch of leadership in education and its widely recognized motto, "A mind is a terrible thing to waste." ®