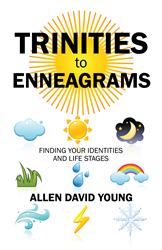 SAN FRANCISCO (PRWEB) April 23, 2018
Having studied many psychological and spiritual systems compatible with the Enneagram for over 30 years, Allen David Young provides an expanded Enneagram Personality System designed to teach readers their personality type, who they are, what they love and their stages of development in life with "Trinities to Enneagrams: Finding Your Identities and Life Stages."
"Trinities to Enneagrams" is an in-depth guide that presents new directions in the Enneagram system designed to teach people how to observe cues and characteristics for determining the Enneagram personality types, soul types and life stages of themselves and others; thus, enhancing one's ability to navigate relationships to themselves and others.
As a spiritual tool, the trinities identified with enneagrams reveal life's nine hidden mystery steps on how thoughts create and change things, and how the circular flow of nature offers her unlimited benefits to all.
"Typically, enneagrams are presented as a motionless model, but in Trinities to Enneagrams the system is set in motion and reveals more of its insights through the signs and stages of development in the cycle of life," Young said. "Through this book, we are reminded that all of nature moves in circles that define the unending flow of life."
For more information, please visit http://www.trinitiestoenneagrams.com.
"Trinities to Enneagrams: Finding Your Identities and Life Stages"
By Allen David Young
ISBN: 9781543446142 (hardcover) 9781543446135 (softcover) 9781543446128 (ebook)
Available at Amazon, Barnes and Noble and Xlibris Publishing
About the author
Allen David Young was born and raised in Berkeley, California. After a 10-year career as a university professor, he spent the next six years immersed in the study of Jungian Psychology, dream work, clairvoyant development training, and occult tools. For more than three decades he has been self-employed as an intuitive counselor and teacher of intuition training with over 500 clients internationally. For the past decade, he has also served as a New Thought/Science of the Mind minister.
Review Copies & Interview Requests:
LAVIDGE – Phoenix
Kalin Thomas
480-648-7540
kthomas(at)lavidge(dot)com