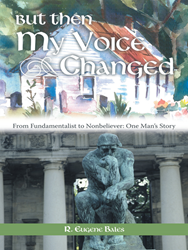 SOUTHPORT, Conn. (PRWEB) April 21, 2018
At 12 years old, R. Eugene Bales' life was dominated by his involvement in the Church of God, a fundamentalist Protestant church. He was wholly devoted to his religions practice, having studied the Bible, was baptized and even preached. Yet, over time questions and doubts grew.
While attending the University of Wichita, Bales experienced an epiphany of doubt that led him to question the teachings of the Church of God. Now, he shares his transformational journey and insights in "But Then My Voice Changed: From Fundamentalist to Nonbeliever - One Man's Story."
"But Then My Voice Changed" is a spiritual memoir that chronicles Bales' evolution from a fundamentalist Christian to a nonbeliever. Bales introduces readers to a young man who grew up in the heart of the Bible belt. Over time, his exposure to more open-minded thinkers, led him to challenge the dogmatic views of his old religion.
He eventually discovered philosophy and began to internalize the subject's methodology. Through philosophical argumentation Bales gradually disconnected himself from a Christian belief system.
With his book, Bales utilizes the tools of philosophy to analyze and discredit religious claims. The book has two parts and the first half sheds light on Bales' early life as a preacher. The second part includes philosophical essays and explores Bales' disconnection with religion and his eventual rejection of fundamental principles of Christian theology.
"Most books advancing agnosticism or atheism are written to be disputatious. But Then My Voice Changed is meant for a wider audience," Bales said. "My goal is not to besmirch Christianity or any religion, but to present a line of thinking that questions rather than accepts."
"But Then My Voice Changed: From Fundamentalist to Nonbeliever – One Man's Story"
By R. Eugene Bales
ISBN: 9781458205827 (hardcover) 9781458205803 (softcover)
Available at Amazon and Barnes and Noble
About the author
R. Eugene Bales, a native Kansan, was a fledgling fundamentalist preacher as a youth, and worked as a haberdasher, music teacher and design assistant before earning his doctorate in philosophy from Stanford. Professor emeritus of philosophy at Menlo College, and now a nonbeliever, Bales lives in Menlo Park, Calif., with his wife, Kathleen.
Review Copies & Interview Requests:
LAVIDGE – Phoenix
Kalin Thomas
480-648-7540
kthomas@lavidge.com