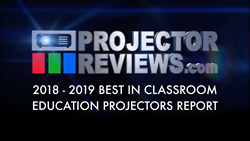 Projector Reviews provides an in-depth guide that makes projector buying for busy educators and IT/AV managers a breeze. Our Education Projector Report, a product of our decades of experience in the AV industry, delivers the analysis they need to not only make a smart decision, but the right one.
SAN CLEMENTE, Calif. (PRWEB) April 20, 2018
Spring is upon us, and with it, projector buying season for K-12 and higher education! ProjectorReviews.com has narrowed down education projector choices into a distilled list of the best value and best performing projectors on the market for the 2018-2019 school year. This year's report features Projector Review's top picks for the classroom, multipurpose rooms, auditoriums, and lecture halls.
ProjectorReviews.com has spent the last year creating in-depth reviews of 16 different projector series, representing 9 major manufacturers. Those series include more than 40 individual projector models, which share similar feature sets with slight variants in brightness, resolutions, and in some cases – having networking capabilities, or not.
Each projector included in the report is suitable for education use, with most having feature sets considered typical for projectors designed to sell well to K-12, higher education – or both.
Most companies provide discounts for education, or programs for dealers that include special pricing or other discounts to allow the dealer to be more competitive on school bids than when selling to corporations. Education is the largest market for projectors in the US, which is why companies/dealers can offer a better price to those in the field.
This year, Projector Reviews gave out their annual "Best In Classroom" Awards to the best value and best performing projectors in the following "classes":
Standard Projectors – These are projectors that are for typical K-12 classroom use.
Large Venue Projectors – These projectors are suitable for those larger university/college classrooms handling 50+ but typically 100 to 400 seat lecture halls, large labs, etc. 
Interactive and Ultra Short Throw Projectors – This class includes ultra short throw and fully interactive projectors, as well as one with optional interactivity.
This year's winners include projectors from (in alphabetical order): Epson, NEC, Sony, and ViewSonic.
All of the Large Venue Projectors included in this report claim at least 3,000 lumens, which is enough for large university classrooms or lecture halls.
The report also discloses information on all the previous year's winners that are still available in quantity through the end of this summer's buying season. ProjectorReviews.com considers still current, previous year's winners to be fully competitive with the new award winners, however, those previous winners are not eligible for another award this year.  
A taste of the winners:
Best Value: Standard Projector – Sony VPL-EW435
Best Value: Interactive or UST – Two: Epson Powerlite 675W and ViewSonic PS750W
Best Performance: Large Venue – NEC NP-PA653UL
Projector Reviews will be distributing these awards at the 2018 Infocomm trade show, held in Las Vegas, NV, this June.
To view the full report, visit: https://www.projectorreviews.com/projector-reports/classroom-projector-report-best-education-projectors-2018-2019/
About ProjectorReviews.com:
ProjectorReviews.com (http://www.projectorreviews.com) is a spinoff of Presenting Solutions LLC, a two-time INC500 company that in 1995 launched one of the earliest websites, PresentingSolutions.com. ProjectorReivews.com was created in 2000 and became a separate entity in 2003. Over its 15 years, the site has published more than 500 projector reviews, in-depth articles on display technologies and industry trends, as well as annual reports covering the latest education, home theater, and pico/pocket projectors. The ProjectorReviews.com team has also created more than 100 videos, many available on YouTube. Its reach has expanded with the launch of its sister site, SmarterHomeAutomation.com, a home automation review and news website.