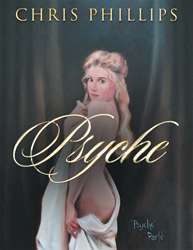 MCLAREN VALE, Australia (PRWEB) April 23, 2018
With nearly a half century of work in psychology, Chris Phillips has seen the desperation of individuals searching for meaning and purpose in their life. Unfortunately, these people are often looking in the wrong place. Phillips looks to solve this problems with his new book "Psyche."
"How do you find out who you truly are and what you were put on this Earth to do? You probably won't find the answer in religion, politics or drugs," Phillips said. "Psyche explores new regions of human essence to discover who you are in spirit and how higher powers work through you. It is also about how you can tune and refine your gifts, most especially the gift of love."
"Psyche" counters the popular notion that we were all born into original sin, but instead, blessed at birth. Phillips highlights the Greek legend of Psyche and examines the nature of various Greek characters as well as the ancient Chaldean and Hebrew system of the Wisdom Paths. "Psyche," the Greek word for "Soul," and its symbol "butterfly," is perfect for modern scientific interpretation of the isometric nature of Psyche – Dextro / Positive and Laevo / Sinister.
With his book, Phillips promotes the idea that we are greatly blessed at birth. He sheds light on the original blessings and the journey of the soul in this life as well as the journey of the soul in past lives. In investigating the human psyche, the book focuses on our "higher powers" and a new scientific model for Psyche as it applies to AIDs and HIV research. Furthermore, "Psyche" features several healing exercises in personal transformation and transcendence and encourages audiences to refine their gifts, particularly the appreciation of beauty and love.
"This book travels afar in examining myth, religion, art, philosophy, science, math, astronomy, astrology, chemistry, physics, health, and karma. Likewise, the chapter on personal work is valuable for helping you find fascinating information for your own growth. Throughout, there is beauty in the art and the storytelling, as well as some exercises to help with your healing," Carol Anderson, D.Min., ACSW, LMSW, said.
For more information, please visit http://www.ChrisPhillipsPsyche.com.
"Psyche"
By Chris Phillips
ISBN: 9781524561994 (hardcover) 9781524561970 (softcover) 9781524561987 (ebook)
Available at Amazon, Barnes and Noble and Xlibris
About the author
Chris Phillips has worked as a registered psychologist for over 40 years in Australia and overseas. He has seen many people and communities struggle with who they are and deal with their issues about purpose at home and at work. He is proud of the fact he has been taught not just at university but also by thousands of people he has worked with over his lifetime.
Review Copies & Interview Requests:
LAVIDGE – Phoenix
Kalin Thomas
480-648-7540
kthomas@lavidge.com