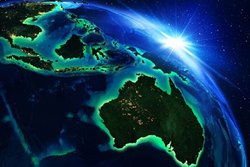 We remain humbled and honored to be recognized and embraced in this manner as we enter the Asia-Pacific market. We operate with a clear understanding that DATA is the new currency in today's economy.
SAN DIEGO (PRWEB) April 24, 2018
RippleNami, Inc., a provider of blockchain data visualization platform, wins the Silver Stevie® Award in the Innovation in Apps category. On 1 June 2018, RippleNami will join the winner's stage along with innovators Patrakom - Member of Telkom Indonesia, based in Jakarta, Indonesia and CLP Power Hong Kong Limited, based in Hong Kong, China.
The 5th Annual Asia-Pacific Stevie Awards program is the only business awards that recognizes innovation in the workplace, across all 22 nations in the Asia-Pacific region. Widely considered for sixteen years as the world's premier business awards, the Stevie Awards showcases achievement in business programs including The International Business Awards®.
"This award comes on the heels of RippleNami's expansion into the Asia Pacific markets with a strategic focus in Southeast Asia. The local government leaders there have stated their goal of delivering optimized governmental services to its underrepresented citizens and their indigenous groups. Central to their strategy is tapping RippleNami as their technology partner and enabling the recognition of millions of undocumented people and their assets. The implications of this endeavor will achieve true national sovereignty," said Phil Gahn, chief business development officer and founder of RippleNami.
"We view this award and collaboration as a significant acknowledgement of RippleNami's first-in-class blockchain visualization technology. We remain humbled and honored to be recognized and embraced in this manner as we enter the Asia-Pacific market. We operate with a clear understanding that DATA is the new currency in today's economy," said Jaye Connolly-LaBelle, Chairman and Chief Executive Officer of RippleNami.
Nicknamed the Stevies -from the Greek word crowned- these award winners will be honored at the Hong Kong Mira Hotel on Friday, 1 June, 2018. These Stevie Award winners were judged by a panel of more than 100 executives from around the world.
"We are very pleased that entries to this program grew by more than 30% this year," said Michael Gallagher, president and founder of the Stevie Awards. "This growth illustrates how vital innovation is to business growth, and how important being recognized for their innovation is to enterprises throughout the Asia-Pacific region. We extend our warmest congratulations to all of this year's Gold, Silver and Bronze Stevie Award winners."
Details and the list of Stevie Award winners are available at http://www.Asia.Stevieawards.com.
About RippleNami
RippleNami recognizes that people empowered with real-time and easily accessible information around the world can connect and drive unimaginable change. RippleNami is redefining blockchain and mapping with the first visualization platform that consolidates big data and provides information that matters most to its users. This cost-effective, device agnostic, cloud-based platform delivers millions of actionable data points on an intuitive map that enables critical decision making and enhanced collaboration for enterprises, nonprofits and foreign government agencies. With seamless integration, limitless customization and scalable architecture, RippleNami allows people to chart their own world, streamline communications and improve operational effectiveness. For more information about RippleNami, visit http://www.ripplenami.com.
About the Stevie® Awards
Stevie Awards are offered in seven programs: the Asia-Pacific Stevie Awards, the German Stevie Awards, The American Business Awards, The International Business Awards®, the Stevie Awards for Women in Business, the Stevie Awards for Great Employers, and the Stevie Awards for Sales & Customer Service. Stevie Awards competitions receive more than 10,000 entries each year from organizations in more than 60 nations. Honoring organizations of all types and sizes and the people behind them, the Stevies recognize outstanding performances in the workplace worldwide. Learn more about the Stevie Awards at http://www.stevieawards.com. Sponsors and partners of the 2018 Asia-Pacific Stevie Awards include PR Newswire Asia and the Korea Business Communicators Association.