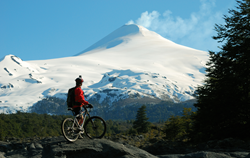 'Since we launched Upscape 15 years ago, our focus has been on creating and hosting the most unique and custom private itineraries in intimate settings' Upscape founder, Brian Pearson says. 'And now, the next generation is traveling more frequently and looking to connect with locals and other, likem
SANTIAGO, Chile (PRWEB) April 21, 2018
Upscape Announces New Small Group Trips. Special Interest Travel with a Sociable Component.
Upscape, a company built on custom travel planning services and known for their exclusive access to hidden experiences in Chile, is now announcing the launch of a curated series of small group trips. These immersive 4-7-day experiences, called Upscape Departures, are designed to highlight special interests like food and wine, art and culture or cycling and encourage social interaction, conversation and exploration amongst travelers.
'Since we launched Upscape 15 years ago, our focus has been on creating and hosting the most unique and custom private itineraries in intimate settings," Upscape founder, Brian Pearson says. "And now, the next generation is traveling more frequently and looking to connect with locals and other, likeminded people from around the world," Brian continues, "we see travel as a way to promote self-development in new settings that present unique perspectives and challenges."
Each Upscape Departure dives deeper into an area of interest, often opening doors through Upscape's local network and encouraging dialogue about how these areas are developing in South America today.
Art, Wine + Capital Cities, a 7-day Upscape Departure, takes travelers into private art studios in Santiago and explores Chilean and Uruguayan visual arts and the art of winemaking at both VIK Chile and Estancia VIK. Created in partnership with local Chilean arts non-profit organization, Antenna, Upscape provides direct access to those who are advocating for the development of Chile's visual arts culture.
Lakes + Volcanos by Bike, a 7-day Upscape Departure, explores the stunning nature of Chile's lakes district with moderately challenging cycling routes and relaxing overnight stays at boutique properties.
For a complete list of Upscape Departures, visit upscapetravel.com.
About Upscape
Upscape is an experiential and adventure travel company based in Santiago, Chile with 15 years of know-how in creating unique itineraries in the Southern Cone, including Uruguay, Argentina and Chile. Their extensive knowledge covers iconic cities such as Buenos Aires, Santiago and Montevideo, wine-growing regions, alternate season ski destinations, on and off-the-grid in Patagonia and the Atacama Desert. Its itineraries have been recognized by the likes of NatGeo Traveler, Vogue and Food + Wine. In 2017 Upscape was named to the Travel + Leisure A-List for the 4th year in a row and Upscape Founder Brian Pearson was recognized as a Condé Nast Traveler Top Travel Specialist for the third year in a row.
For more information, please visit http://www.upscapetravel.com