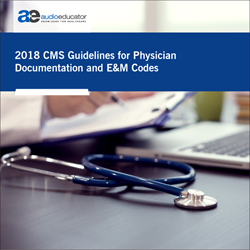 If all encounter documentation notes look the same—or all examinations are the same for every patient—the audit risk is high.
Durham, N.C. (PRWEB) April 23, 2018
AudioEducator, a division of audio conference and corporate education leader ProEdTech, will host the live webinar "2018 CMS Guidelines for Physician Documentation and E&M Codes" with industry veteran Melody S. Irvine on Thursday, April 26, 2018 at 1:00pm ET.
Physicians, coders, and billers know that the documentation must support the encounter—but how is EMR set up for documentation? If all the notes look the same—or all examinations are the same for every patient—the risk for an audit is high. And many other documentation pitfalls also have the potential to incur scrutiny. It's time for an upgrade!
It will be critical to ensure compliance with 2018 physician documentation requirements in light of the possible changes to documentation CMS is proposing for evaluation and management (E&M) codes.
In this session, coding expert Melody S. Irvine will discuss the CMS Proposed Policy. She will also discuss CMS's proposed E&M code changes. She will outline the specific areas CMS is looking at for documentation and how the new focus will affect future provider documentation.
E&M codes are always on the OIG Workplan, so get prepared to protect facility from unnecessary audits. This session will explain how to spot cloned-looking documentation and other potentially problematic notes, such as over-coding of encounters, that could send up a red flag with the feds.
The session will help anyone and everyone responsible for medical facility coding and billing to understand:

Possible changes CMS is proposing for E&M documentation
EMR concerns for documentation
Risks as per the OIG Workplan
Cloned notes and other potential risks
Whether providers are actually performing the services they have documented
For more information and to register, visit: https://www.audioeducator.com/medical-coding-billing/cms-guidelines-for-physician-documentation.html
Get $40 off on our conferences and webinars. Use Code PRWEB40 on checkout (applicable for all purchases).
About ProEdTech
ProEdTech is a leading source of knowledge and training for professionals in over 15 industries, serving individuals, businesses and their employees around the globe. It offers webinars, online conferences, seminars, boot camps, books, DVDs, white papers, industry reports and other learning tools from industry experts and insiders who provide a fresh perspective on key issues, trends and regulations in order to simplify governance, risk and compliance (GRC) for enterprises and industry professionals. ProEdTech's AudioEducator webinars offer updates, regulatory knowledge and information on the latest news in various medical specialties, as well as coding and billing updates, and analysis of regulations that affect ambulatory surgical centers, home health, long term care and hospice facilities, hospitals and healthcare systems, health insurers and physician practices. Webinars are also offered through AudioSolutionz in the technology, human resources, construction and housing, ICT and telecom, manufacturing, consumer packaged goods and retail, safety and security, transportation, energy and environment, education, trade, and chemicals industries. ProEdTech's Eli Financial platform offers tax and banking professionals, focusing on providing high-quality online training products customized for U.S. lenders and tax practitioners that include the latest updates from the IRS, CFPB and other regulatory authorities. ProEdTech regularly provides professionals the opportunity to get answers to their most complex questions directly from experts, without having to attend costly live conferences. To learn more, visit: http://www.proedtech.com/.