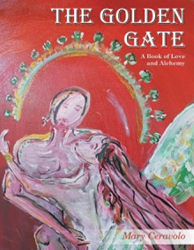 SALISBURY, Australia (PRWEB) April 21, 2018
Feeling a need to need to empower others, Mary Ceravolo offers readers a path to transformation with art and poetry in her new spirituality book, "The Golden Gate: A Book of Love and Alchemy" (published by Balboa Press AU). The book is designed to help readers transform their grief, loss, trauma and pain into self-realization, self-liberation and love.
"Unleash you creativity, embrace your inner most fear and pain: pray, cry, experience, feel and understand all of your emotions, go above what you see and experiencing; than review, fall and rise and recreate yourself into new," urges Ceravolo. "Believe in the magic of your inner potential and love, love and love."
Ceravolo says her book helps people reach out to and establish oneness with the universe by using art, poetry and love as a life force. She says the creative force of Shakti unleashes the power to induce you to an altered state of consciousness. Then, she explains, the Shakti-Shiva idea, saying that when the inner self and the body, spirit and matter are married in balance, the body creates balance and equilibrium in everything that coexists in nature.
"The Golden Gate"
By Mary Ceravolo
Softcover | 8.5 x 11 in | 102 pages | ISBN 9781504312295
E-Book | 102 pages | ISBN 9781504312301
Available at Amazon and Barnes & Noble
About the Author
Mary Ceravolo is an Italian-South Australian poet and artist. Her interests and life work are "Eclectic- Bohemian" in nature. Ceravolo has won many awards for both her paintings and her writing. Passionate about communities and people, she actively draws upon her skills, knowledge and experience to promote women's inner spiritual development. Over the past 25 years, Ceravolo has tested, refined and successfully applied her expertise in human and social services, holistic counseling and preventive health, both in English and Italian contexts, within culturally and linguistically diverse communities. Ceravolo has extensive knowledge and experience in alternative and holistic medicine. She is a qualified homoeopath, psychotherapist, grief and loss counsellor, and doctor and practitioner of alternative medicine. More information is available at: http://www.maryceravolowisewomenstudy.com.