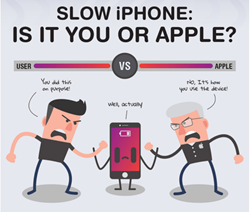 MELBOURNE, Australia (PRWEB) April 24, 2018
Near the end of 2017, iPhone users with old models have noticed that their phones suffer from sluggish performance. This came several months after Apple released an iOS 10.2.1 update, which improved power management to avoid unexpected shutdowns.
Turmoil rippled across reddit with conspiracy theories declaring that the tech giant degraded old models on purpose to get users to buy the latest iPhones.
Apple released a statement on December 28, 2017, denying those theories. However, they did confirm that the software update does slow down phones that have chemically aged batteries.
"We apologize," Apple said. "There's been a lot of misunderstanding about this issue, so we would like to clarify and let you know about some changes we're making. . . . Our goal has always been to create products that our customers love, and making iPhones last as long as possible is an important part of that."
With Apple's message came a $50 price reduction on out-of-warranty iPhone battery replacements. If affected users get their batteries replaced, their iPhone's performance will return to normal.
Macfixit, a distributor of Apple-related accessories in Australia, summarized the points of the announcement in an infographic titled "Slow iPhone: Is It You or Apple?" Every detail on the issue, including the retorts made in Reddit and a few solutions to the problem, has been condensed into cartoon images and captions. The infographic serves as an aid for iPhone users who remain unaware of the matter.
About Macfixit Australia
Macfixit Australia, based in Melbourne, has been operating since 2005. Over the years, they've built themselves up as a distributor for Apple-related accessories and products in Australia. Their stocks are focused on Apple upgrades, with an emphasis on storage, RAM chips, and hard-to-find pieces for MacBooks (Pro and Air laptops), iPads, and iPhones. For more information, visit http://www.macfixit.com.au