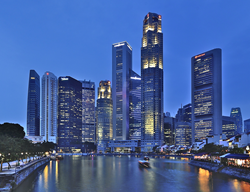 Asia is starting to evolve at a rapid pace, accounting for some of the world's largest consumer markets. At the forefront of the Asian Region's progress, is the strong and sustainable economic growth of Singapore.
Singapore, Singapore (PRWEB) April 22, 2018
"Asia is starting to evolve at a rapid pace, accounting for some of the world's largest consumer markets. At the forefront of the Asian Region's progress, is the strong and sustainable economic growth of Singapore," says incorporation specialist Kan Kok Cheong Andy, a partner at Corporate Services Singapore.
Singapore's Gross Domestic Product (GDP) for fiscal years 2016 and 2017 have been positive, doubling initial growth projections. The same positive outlook is likely to continue in 2018, with official estimates of about 1.5% to 3.5% for economic growth this year. Various business sectors like manufacturing (OEM and silicon parts), financial intermediation and retail and wholesale trade are the main growth drivers for Singapore's recent economic surge.
This notwithstanding, Singapore's resilient economy is only one of the many reasons Singapore is regarded as Asia's global hub for businesses. "If we scrutinize Singapore's business climate and compare it with other Asian countries, the former likely fares better in many aspects. It's no accident that Singapore is ranked second in World's Banks Ease of Doing Business Report. The Government's strict autocratic reforms and policies have paid off, transforming Singapore into a world-class business epicenter that nurtures both start-ups and established global brands alike," he added.
Singapore's emergence as one of the most ideal countries for company incorporation and business set up are due to the following factors:
1. Strategic Location
Singapore's has a strategic location, thanks in part to its accessible linkages to Asia's growing markets such as China, Indonesia, Philippines and India in a few hours flight, not to mention well-developed diplomatic ties with other neighboring Asian countries, makes it a viable springboard for many multinational corporations (MNC) and SMEs seeking business expansion in Asia.
2. Lower Corporate Taxes
Singapore's tax scheme is business-friendly as the prevailing corporate income tax levy is lower (at a flat rate of 17%) relative to other countries' impositions which are pegged at 25% to 30% of the taxable income. As a general rule, taxation in Singapore is territorial, which means that only income derived or accrued in Singapore is taxed.
3. Hassle-Free Company Incorporation Requirements
Singapore's company incorporation procedures are simple and expedient. The online registration can be done via +BizFile and completed within a day, so long as all pertinent paper works and statutory compliances have been submitted. When registering a company, it may be ideal to work with a professional incorporation to serve as a guide in understanding the requirements under the Singapore companies Act – among these are procuring an approved company name, appointment of directors, onboarding a resident corporate secretary, having shareholders, a minimum paid up capital and a registered office address in Singapore.
According to General Manager Hans Teo of Corporate Services Singapore, the beauty of setting up a business in Singapore is that it's less complicated and pro-business. The Government is spearheading efforts to ensure that the Lion City is still a primary destination for company set up, through business-friendly measures such as cutting the red tape (easing up compliance requirements), higher corporate tax rebates and tax deductions and skilled labor force. It thus comes as no surprise that more multinational companies and SMEs are seeking entry into Singapore's consumer markets with better local corporate presence.
About Corporate Services Singapore
Corporate Services Singapore caters to the business needs of local enterprises and multinational corporations by delivering straightforward accounting and financial solutions. The firm consists of a team of accredited incorporation experts, accountants and tax analysts, and is expanding its suite of business solutions to provide a more holistic guidance to business entities seeking to establish a corporate presence in Singapore.