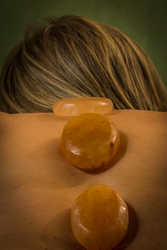 Offered at top spas around the world, Saltability's Himalayan Salt Stone Massage offers an environmentally friendly alternative to traditional hot stone massage -- using no water and requiring less electricity -- plus emits negative ions to help purify the air, reduce indoor air pollution, and more.
BOCA RATON, Fla. (PRWEB) April 20, 2018
On Sunday, April 22, Earth Day will raise awareness for the importance of caring for our environment and send a reminder to spa-goers to learn more about the environmental impact of their spa treatments. As a two-time ISPA Innovation Award winner and a Green Spa Network Sustainability Award finalist, Saltability is committed to delivering eco-friendly products that make a difference for Earth Day and every day.
Among Saltability's environmentally-conscious products is the Himalayan Salt Stone Massage warmer, which features LED technology that delivers an estimated energy efficiency of 80 to 90 percent compared to traditional lighting and requires less power than traditional warmers. In addition, the warmer features shielded metal housing that blocks electromagnetic pollution to protect therapists and guests against negative effects.
"It's our social responsibility to safeguard our earth," said Angela Searle, Senior Director of Training & Quality Assurance, One Spa World, LLC. "With more than 200 spas at sea and on land, sustainability is at the forefront of our company culture and service offerings. We are introducing Saltability's Himalayan Salt Stones as an eco-friendly and energy conserving approach to stone therapy. We cannot get through a day without having an impact on our environment. This one spa change can make a world of difference."
Saltability provides quality Himalayan salt stone products mined from the Himalayan Mountains in Pakistan through socially and environmentally responsible manufacturing. A Himalayan salt stone massage can balance the body's electromagnetic field and naturally soothes stress and tension. It simultaneously relaxes and balances the central nervous system, using strategic points and specific combinations to balance energy. When heated, the salt emits negative ions that reduce indoor air pollution and allergens as well as improve sleep.
"Our spa looks for products that have healing benefits beyond basic treatments so we chose to use Saltability's Himalayan Salt Stones for our Hot Stone Massages over traditional stones," said Matt Turner, spa director at Cavallo Point in Sausalito, CA. "When the salt crystals are heated they release negative ions, which help elevate the mood and normalize blood pH."
"Saltability understands the importance of caring for its surroundings and knows that rebalancing your body should not come at an environmental cost," said Saltability founder and CEO Ann Brown. "
Saltability's products and treatments are found at top spas and wellness destinations worldwide, including Shangri-La Hotels and Resorts, Four Seasons in London and Hong Kong, Cavallo Point in Sausalito, California, Montage Laguna Beach, and the MGM Macau.
For more information, visit https://www.saltability.com.