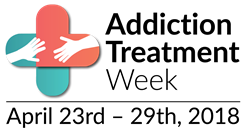 "Raising awareness that addiction is a chronic brain disease, and not a moral failure, and qualifying more clinicians to treat addiction is vital to increasing patients' access to treatment." said Kelly Clark, MD, MBA, DFASAM, president of ASAM
ROCKVILLE, Md. (PRWEB) April 23, 2018
National Addiction Treatment Week, April 23rd through April 29th, raises awareness that addiction is a disease, evidence-based treatments are available, and more clinicians need to enter the field of Addiction Medicine in order to treat the nationwide epidemic. The American Society of Addiction Medicine (ASAM) alongside its partners host this week.
The United States (US) is in the midst of an addiction epidemic. Nearly 20.5 million Americans suffer from a substance use disorder (SUD), yet only 1 in 10 people with a SUD receive treatment. According to the Centers for Disease Control and Prevention (CDC), more than 64,000 Americans died from a drug overdose in 2016, and more than 88,000 people die each year from alcohol-related use in the US.
We must increase patient's access to evidence-based treatments by decreasing the stigma surrounding the disease and recognizing addiction as the disease it is; while growing a qualified addiction medicine workforce to provide patients a continuum of care.
Despite the growing epidemic, progress is being made. Since 2017, the American Board of Preventive Medicine (ABPM) started offering physicians, who are certified by a Member Board of the American Board of Medical Specialties, the opportunity to become board-certified in Addiction Medicine. In 2017 over 1,200 physicians became board-certified in Addiction Medicine through the ABPM. ASAM collaborated with the American Association of Nurse Practitioners (AANP) and American Academy of Physician Assistants (AAPA) to train over 5,000 Nurse Practitioners and Physician Assistants to treat opioid use disorder through a waiver qualifying course.
"Raising awareness that addiction is a chronic brain disease, and not a moral failure, and qualifying more clinicians to treat addiction is vital to increasing patients' access to treatment," said Kelly Clark, MD, MBA, DFASAM, president of ASAM. "National Addiction Treatment Week supports ASAM's dedication to increasing access and improving the quality of addiction treatment, and helping physicians treat addiction and save lives."
Join us for National Addiction Treatment Week with events focused on research-verified, evidence-based addiction medicine including webinars informing physicians and medical students about the pathways to addiction medicine certification. Help us treat addiction and save lives, by getting involved and raising awareness. Learn more by visiting TreatAddictionSaveLives.org.
###
About ASAM
The American Society of Addiction Medicine, founded in 1954, is a professional society representing over 5,000 physicians, clinicians, and associated professionals in the field of addiction medicine. ASAM is dedicated to increasing access and improving the quality of addiction treatment, educating physicians and the public, supporting research and prevention, and promoting the appropriate role of physicians in the care of patients with addiction. For more information visit http://www.ASAM.org.