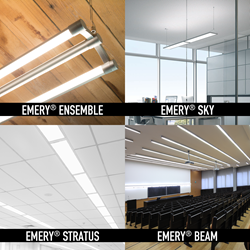 Reno, NV (PRWEB) April 23, 2018
Elemental LED, a leading U.S. based engineering and technology company that manufactures LED lighting solutions announced today a new series of suspended and ceiling LED fixtures and luminaries called the EMERY™ Lighting Series. Elemental LED and its manufacturing and wholesale division, Diode LED, provides a wide variety of superior quality linear, task, and accent LED lighting solutions for both commercial and residential applications.
The EMERY™ SKY is a slim and sleek suspended linear LED luminaire perfect for both direct and ambient lighting. Engineered for dimmable, simultaneous up and down lighting, the modern aluminum frame and laser etched acrylic is both stylish and built for performance. The high lumen light output is rendered in the architectural 90 plus CRI. When in the off position, the high-voltage EMERY SKY simulates a crystal-clear window subtly disguising itself into the environment as a decorative art piece. With 3 available lengths, up to 8ft, and ranging from 4200 to 8400 lumens, you won't find another luminaire that delivers the beauty and performance of a clear day like EMERY SKY.
The EMERY™ BEAM is a robust linear LED batten light that is an ideal energy-saving alternative to traditional T8 lighting systems. UL Listed for safety and DLC Listed for architects, the linkable one-power source fixture really shines when it comes to installation. Addressing the challenges of similar products in the industry, the BEAM can be flush mounted or suspended and utilizes a quick latch release system providing simple installation. This 120-277VAC fixture emits 4800 lumens, and can be controlled through a 0-10v dimming system that is ideal for commercial retrofits and installations. An indoor and wet-location outdoor rated variation is available with optional Emergency Back Up Battery making the EMERY BEAM not only the highest performing and easiest to install batten light today, but also the safest on the market.
The EMERY™ STRATUS is the latest in ceiling panel lighting design with the slimmest profile available. Manufactured in 3 popular sizes and meeting DLC listing requirements for architects and specifiers, the EMERY STRATUS provides the best value in quality for commercial office space lighting. The 120-277vAC low energy consumption fixture can be dimmed using a 0-10v system and delivers 3800 to 5300 lumens of glare-free direct overhead lighting. Slim, yet heavy duty aluminum construction contains an integrated driver and is still lightweight to be installed in T-Bar applications. The unique slim design makes it simple to incorporate into complex ceiling configurations.
The EMERY™ ENSEMBLE, Diode LED's first entrant in the EMERY Lighting Series, is a suspended dimmable LED fixture for low-voltage residential or commercial applications. Suspended from minimalistic, high-grade aircraft cable, this architectural lighting fixture features 3 high-output cylindrical lighting sections that can be adjusted independently with 355° rotation to meet unique lighting requirements. Finishes are offered in modern matte chrome or stylish black. The EMERY ENSEMBLE is light where you want, when you want and how you want.
About Elemental LED:
Elemental LED, founded in 2008, is a leading North American based engineering and technology company with offices in Nevada, California, China and the United Kingdom. We manufacture an extensive high-quality portfolio of superior patented linear, accent, and task LED lighting featuring unparalleled CRI and R values with flawless, and vibrant high-fidelity color rendering. We are proud to be America's largest provider of low voltage linear LED lighting, inspiring lighting professionals with our innovative technology, unmatched quality, and best-in-class customer experience.