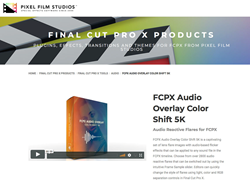 "Audio synced controls and spectacular 5K color flares collide in this impressive new release by Pixel Film Studios for FCPX projects!"
ALISO VIEJO, Calif. (PRWEB) April 22, 2018
FCPX Audio Overlay Color Shift 5K is a captivating set of lens flare images with audio-based flicker effects that can be applied to any sound file in the FCPX timeline. Choose from over 2800 audio reactive flares that can be switched out by using the intuitive Frame Sample slider. Editors can quickly change the style of flares using light, color and RGB separation controls in Final Cut Pro X.
Switching out flares is easier than ever with FCPX Audio Overlay Color Shift 5K. An included Frame Sample slider contains a unique and colorful flare for each frame of the slider. Editors can swap out flares by moving the slider marker to a new frame.
FCPX Audio Overlay Color Shift 5K responds to the full range of frequencies in the applied sound. Then, users can adjust the low and high frequency sliders to isolate a desired range within the audio. With these two controls, editors can allow anything from the lowest rumbles to the highest pitches to affect objects in Final Cut Pro.
The included flares in FCPX Audio Overlay Color Shift 5K are shot in beautiful 5K resolution and come in a variety of other formats such as 4K, 2K and HD. This package is optimized to be light and compact for the customer while also being intuitive to use for the editor.
Users can switch on and off flicker controls for brightness, colors and RGB separation. Utilize the Flicker drop-down menu to choose between 3 flicker settings: rigid, medium and smooth. Once finished, make additional adjustments to parameters in the Style and Light Control sections.
Established in 2006, Aliso Viejo, California-based Pixel Film Studios is an innovative developer of visual effects tools for the post-production and broadcast community. Their products are integrated with popular non-linear editing and compositing products from Apple FCPX. Apple, the Apple logo, Mac OS X, and Macintosh are registered trademarks of Apple Inc. in the U.S. and/or other countries. All other trademarks and trade names are the property of their respective owners.