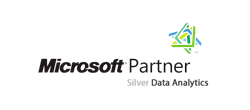 "Our certified vertical data competency will further enable our clients to more quickly innovate and implement new data-driven insights."
TAMPA BAY, Fla. (PRWEB) April 23, 2018
Over the past 6 months, Dobler Consulting has achieved what only 5% of all Microsoft's Service Partners ever achieve – Gold and Silver Certification. Silver Certification for Data Analytics means that Dobler Consulting is now a premier specialist in helping their clients turn data into actionable insights by using business intelligence, big data, and advanced analytics best practices. This vertically compliments Dobler's Gold Certification for Data Platform achieved two years ago. This certifies skills competency and security assurances for work on big data SQL databases in on-site and hybrid environments.
"Our certified vertical data competency will further enable our clients to more quickly innovate and implement new data-driven insights. This is a very exciting time to be in our business as the barriers between the company and the consumer begin to blur and merge," according To Peter Dobler, CEO of Dobler Consulting. "Agile data infrastructure, combined with advanced analytics and creativity are making this epic transformation possible."
The convergence of data infrastructure to data solutions is now an exponentially accelerating trend. IDC reports that growth of the Big Data and Analytics will almost double from $130.1 billion in 2016 to $203 billion in 2020. Gartner Top 10 CIO Business and Technology Priorities report states, Business Intelligence and Analytics is consistently rated as top technology investment categories by CIOs.
Because only 5% of Microsoft Partners achieve Gold and Silver status, the certification process is by necessity rigorous. It requires not only a team of Microsoft Certified Professionals; it requires satisfactory client references about projects completed, skills applied and annual updates. Additionally, Microsoft allows Partners to certify products they develop to prove knowledge of Data Platform and Data Analytics technologies. Our XpressInsight™ data warehouse product has been Gold certified in SQL Server since 2014.
"Our long-term successful Partnership with Microsoft is also a reflection of our long-term business relationships with our clients wanting more agile, innovative and secure uses of their data assets," according to Dobler. "Innovation is always a collaboration, in this case, a three-way street between Microsoft, our clients and our consultancy."
About Dobler Consulting:
Dobler Consulting llc is a leading provider of database services and information technology support, servicing clients ranging from small businesses to FORTUNE companies across multiple industry verticals. To learn more about Peter Dobler and Dobler Consulting, visit our website: http://doblerconsulting.com or visit us on Facebook or on Twitter.