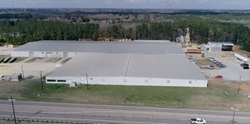 Southland's new facility will further support the company's leadership of the US log home industry
COLUMBIA, S.C. (PRWEB) April 21, 2018
Southland Log Homes, America's largest designer and manufacturer of log homes, has set the date for the grand opening of its new manufacturing facility in Saluda, SC for April 30, 2018.
U.S. Congressman Jeff Duncan is scheduled to attend the grand opening, along with local Saluda officials, and Southland's executive team. Rather than the traditional ribbon cutting ceremony, a "log cutting" is planned to symbolically open the new mill.
In recent months, the company has been ramping up production in the 160,000 square foot facility, which was acquired in 2017, and had been used in years past as a textile warehouse.
"Southland's new facility will further support the company's leadership of the US log home industry," said Ken Sekley, Southland's President and CEO. "We are proud that the nation's largest log home company makes its home, and does all of its manufacturing of log cabin kits, right here in South Carolina."
Southland Log Homes provides its customers with personalized designs and high quality log home plans, as well as support in working with quality log home builders, understanding financing options, and identifying available land anywhere in the US. Southland's log homes range from beautifully rustic traditional designs to the latest in modern design trends and sustainability.
About Southland Log Homes: Headquartered in Columbia, South Carolina, Southland Log Homes was founded in 1978 and is the largest log home company in the United States. Southland operates model home sales offices and has authorized Southland dealers located throughout the United States, Europe, and Asia. Model homes are located in Atlanta, GA; Baton Rouge, LA; Biloxi, MS; Birmingham, AL; Charlotte, NC; Christiansburg, VA; Columbia, SC; Dallas, TX; Danville, PA; Fredericksburg, VA; Greensboro, NC; Greenville, SC; Houston, TX; Northwest Indiana; Kansas City, MO; Lake City, FL; Louisville, KY; Macon, GA; Memphis, TN; Nashville, TN; Springfield, MA; and San Antonio, TX. For more information about Southland Log Homes, call 800-641-4754 or visit SouthlandLogHomes.com.