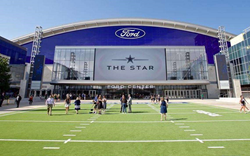 DevOps is about changing traditional product development paradigms which can be daunting, which is why networking with local DevOps experts who are currently tackling these initiatives is invaluable
ATLANTA (PRWEB) April 24, 2018
Orasi Software, an Atlanta-based software reseller and consulting firm focused on products and processes that streamline the DevOps delivery pipeline, co-hosted a DevOps "Networking with Experts" luncheon with XebiaLabs at the newly opened $1.5B Dallas Cowboys' World Headquarters in Frisco, TX, on April 17, 2018 from 11:30 a.m. to 1:00 p.m.
"DevOps is about changing traditional product development paradigms which can be daunting, which is why networking with local DevOps experts who are currently tackling these initiatives is invaluable," said Orasi Senior Vice President Mark Lewis.
The luncheon, one in a series of "Networking with Experts" events Orasi is offering nationwide, brought over 80 attendees together with product and process experts who shared their insights, tips and success strategies to make the transformation more seamless and cost-effective. The Dallas Cowboys' World Headquarters provided a best-in-class atmosphere for lively and productive conversation.
Attendees took advantage of free 45-minute tours of the facility, offered by Orasi and XebiaLabs, at the conclusion of the event. Tours gave a behind-the-scenes look at the Dallas Cowboys' history including vintage memorabilia and little-known team stories. The Dallas Cowboys' Headquarters, "The Star", covers 91 acres including shopping, dining, athletic and hotel options and is located at One Cowboys Way, Frisco, TX.
For more information about future "Networking with Experts" events, contact Orasi at (678)818-5300.
About Orasi
Orasi is an Atlanta-based software reseller and professional services company that provides software, support, training, and consulting services. Through strategic industry partnerships, Orasi offers market-leading automated testing, application performance management/intelligence, test data management and coverage, continuous integration/delivery, mobile technologies and more to enable customers to focus on a complete software quality lifecycle. For more information, please visit the Orasi company website: http://www.orasi.com
About XebiaLabs
XebiaLabs develops enterprise-scale Continuous Delivery and DevOps software, providing companies with the visibility, automation and control they need to deliver software faster and with less risk. Global market leaders rely on XebiaLabs to meet the increasing demand for accelerated and more reliable software releases.