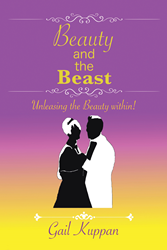 WOLVERHAMPTON, England (PRWEB) April 23, 2018
Gail Kuppan's marriage was on the verge of falling apart. It wasn't until she gave her marriage to God that she was finally able to unleash the beauty within her relationship.
In her book, "Beauty and the Beast: Unleashing the Beauty Within!" Kuppan chronicles the details of her failing marriage and how she learned to ask God to help her see her role as a wife through his view.
Analyzed through Biblical passages, Kuppan describes how understanding communication styles, expectations, roles, and societal norms about marriage led her and her husband to work on building a strong relationship.
The book also includes action point questions at the end of each chapter so readers can guide themselves on their journey through Kuppan's advice.
"A healthy marriage starts with God and the self," Kuppan said. "We must first listen to Him to see how we can change ourselves, and not our partner."
In "Beauty and the Beast," readers can use Kuppan's guidance to reach a better understanding of their relationship with God and their spouse.
"Beauty and the Beast: Unleashing the Beauty Within!"
By: Gail Kuppan
ISBN: 978-1-5127-8132-8 (sc); 978-1-5127-8133-5 (hc); 978-1-5127-8131-1 (e)
Available at the Westbow Press Online Bookstore and Amazon
About The Author:
Gail Kuppan, a lawyer, is the CEO and Founder of Ginosko Academy of Inspired Learning and International Bible School. She is also a Pastor and Co-Founder of Rhema Faith Church. "Beauty and the Beast: Unleashing the Beauty Within!" is her first book. For more information about the author, please visit http://www.gailkuppan.com.
Review Copies & Interview Requests:
Maggie Driver
LAVIDGE – Phoenix
480-998-2600 x 584
mdriver@lavidge.com
General Inquiries
Rian Rosado
LAVIDGE – Phoenix
480-998-2600 x 554
rrosado@lavidge.com