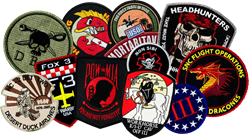 The confidence that we have on our product quality and customer service has enabled us to launch this website with features that would change the dimension of the online custom manufacturing landscape
NEW YORK (PRWEB) April 25, 2018
UltraPatches wants to serve customers who want to personalize or customize embroidered, woven and printed patches and other garment accessories.
Jeremy Pherson the CEO of UltraPatches says, "A large number of customers are looking for garment accessories to add value and personality to their brands and clothes. Fashion entrepreneurs, sports teams, government departments, corporations and hobbyists are looking to manufacture quality customized garments and apparel accessories like embroidered patches, caps, shirts, scarves etc in bulk and add value to their brands".
Sourcing a quality product at competitive prices is a very time consuming process with a lot of quality assessment, suppliers due diligence and the pressure to meet deadlines. Ultrapatches.com is looking to provide a solution for this problem by providing its customers an online turnkey solution to get their garment accessories manufactured to their satisfaction, quality and pricing.
The website offers Toll-Free calling, free online phone calls via the website and Live Chat with real time designers to customize any product on the spot. The website wants to offer a highly personalized manufacturing experience to its users. Some of the key features of the website are Free Designing Services, Free Sample and a Pay after Satisfaction model which would mean that a customer would only pay after the customized sample has been approved by them. Mr. Pherson says, "The confidence that we have on our product quality and customer service has enabled us to launch this website with features that would change the dimension of the online custom manufacturing landscape."
The system has already been tested with their existing customers after positive reviews. This innovation would not only add value for customers but will also reduce costs for his company which would ultimately pass on to the customers.