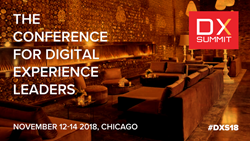 "The balanced focus on the many aspects of digitization and their impact on customer journey is what makes DX Summit a conference that cannot be missed." - Eeshita Grover, Senior Manager of Technical Communications at Cisco
SAN FRANCISCO (PRWEB) April 24, 2018
Simpler Media Group, Inc., publisher of the popular CMSWire.com website, announces dates and details regarding the DX Summit conference (#DXS18). Taking place from November 12-14, 2018 in Chicago at the Radisson Blu Aqua Hotel, this three-day event aims to bring together the most influential practitioners and technology innovators in the evolving digital world of digital customer experience.
The 2018 speaker line-up features Carmen Simon, cognitive neuroscientist and founder of Memzy, Brian Solis, principal analyst of Altimeter @ Prophet, and organizations such as Hilton, Cisco, Comcast and Wells Fargo. With interactive workshops, inspiring keynotes, fun social hours and more, this year's DX Summit conference promises to be bigger, brighter and bolder than ever.
"While there are several forums discussing digitization, DX Summit actually brings together a unique experience. The balanced focus on the many aspects of digitization and their impact on customer journey is what makes DX Summit a conference that cannot be missed," said Eeshita Grover, Senior Manager of Technical Communications at Cisco. Grover has not only attended DX Summit in past years, she will be speaking at DX Summit 2018 on digitization and user content.
The content and attendee experience for DX Summit 2018 will also be informed by an industry-leading advisory board. Members of the board include Eeshita Grover of Cisco, Serafina Frongia of Wells Fargo, Tony Byrne of Real Story Group, Barbara Lehman of Comcast, Meg Walsh of Hilton and Carolina Ramirez of UNICEF.
DX Summit 2018 will feature a concentrated agenda of topics covering AI and machine learning, big data and analytics, voice of the customer and customer journeys to DX technology and platforms.
"DX technology continues to evolve rapidly, even if some of the same old tripping points keep re-appearing," said Tony Byrne, founder of Real Story Group and repeat DX Summit speaker. "Meeting up with other DX pros is a great way to learn from others, and I'm really excited to be teaching again at this year's Summit!"
Registration for DX Summit 2018 is open now and currently offers a $400 Super Early Bird discount on three-day passes and two-day passes.