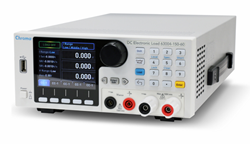 FOOTHILL RANCH, Calif. (PRWEB) April 24, 2018
Chroma Systems Solutions, Inc., a leading provider of power conversion test equipment, announces the release of its new 63000 series programmable DC electronic load. Designed for lower power applications, the 63000 is targeted for testing numerous types of components and devices including switching power supplies, AC/DC power supplies, DC to DC converters, adapters, batteries, and battery chargers. Due to its advanced features and compact size, Chroma expects the new benchtop series to be the new standard for R&D and University power electronics labs.
User Defined Waveforms is a feature that allow the user to simulate actual current profiles and waveforms by uploading captured waveform data through the softpanel. Each load can store up to 10 sets of waveforms containing up to 1.5 million data points. It also provides voltage peak measurements eliminating the need for an oscilloscope. In addition to constant current, constant voltage, constant power and constant resistance modes, the 63000 is equipped with CZ mode for turn on capacitive load simulation. CZ mode simulates the actual inductance, impedance and capacitance for loading, making the load current closer to real conditions.
The built-in dynamic load settings test the transient response of a power supply. These loads have 2 separate current settings each capable of different slew rates and dwell time settings. Dwell times range from 50 micro seconds to 99.9 seconds, slew rates up to 3 amps per micro second with a 20 micro second minimum, and returns measurements for the voltage plus and minus peak. In addition, the 63000 provides 3 current ranges with very high measurement accuracy making them applicable for EnergyStar® compliance testing.
Chroma's initial release offers models up to 350 watts, 150 volts and 60 amps with USB, Ethernet and GBIP support, a large LCD display, user-defined hot keys, and all necessary protections built-in. Each unit also includes a convenient handle to carry the lightweight load from bench to bench. Pricing is competitive for a reliable, precision electronic load of this type.
For more information on Chroma's 63000 benchtop DC electronic loads, logon to http://www.chromausa.com.
About Chroma Systems Solutions
Chroma Systems Solutions, Inc. is a leader in providing power electronics and electrical safety testing instrumentation and systems. Chroma's programmable power supplies, electronic loads, meters, hipot testers and automated testing systems provide solutions for applications in Aerospace, Military, Commercial, Medical, Battery, Marine, and Regulatory Testing as well as green energy markets including Solar, Electric Vehicle and LED. With offices and manufacturing facilities located around the globe, Chroma is dedicated to providing the highest quality equipment for compliance and R&D test engineers as well as unparalleled service and support. Chroma Systems Solutions corporate office is located in Foothill Ranch, CA. For more information, please visit http://www.chromausa.com or call us at (949) 600-6400.