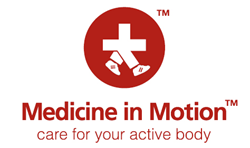 Arthritis occurs in joints that have been injured. Running on healthy knees does not cause injury or arthritis if the runner's gait is normal and there are no muscle imbalances.
AUSTIN, Texas (PRWEB) May 07, 2018
In conjunction with the annual National Arthritis Awareness Month in May, Medicine in Motion has undertaken an educational initiative to increase public awareness of the effects of running on arthritis. The disease is the number one cause of disability in the United States, affecting more than 50 million people; by 2030 that number is expected to increase to 67 million Americans.
One of the most popular modern-day fitness myths is that running is bad for your knees. However, many joint health medical experts disagree.
"There is a misconception that running can cause arthritis, but that is absolutely false," said Dr. Martha Pyron, Austin-area sports medicine doctor and owner of Medicine in Motion. "Arthritis occurs in joints that have been injured. Running on healthy knees does not cause injury or arthritis if the runner's gait is normal and there are no muscle imbalances."
Dr. Pyron continued, "Proper running is actually shown to decrease arthritis, not increase it. Of course, I don't recommend running on painful knees. When discomfort is present, utilize physical therapy or a knee brace and reevaluate your ability to run. If pain is still an issue, try swimming or bicycling as an alternative, even if just for the short-term while the knee heals. Either way, keep those bodies moving!"
While running with achy joints may seem counterintuitive, the Arthritis Foundation recommends a proper running regimen to help ease the pain. The key to a safe and successful run is ensuring that it is done properly. While a doctor consultation is always recommended, here are a few tips arthritis-suffers should keep in mind when developing a running program.
1. Choose your running surfaces wisely. To reduce joint impact, avoid running on concrete completely and seek out softer surfaces like trails, paths, and even treadmills or asphalt.
2. Include strength training in your workout regimen. Strong muscles allow the body to absorb more shock, which helps reduce impact on the joints and the likelihood of injury.
3. Don't forget to stretch. Focus on the quadriceps, hamstrings, gluts and calves with pre- and post-run stretches. Increased flexibility can help reduce the risk of injury and protect the joints.
4. Cross-train for increased mobility. For decreased joint impact and increased metabolism on non-run days, cross-train with less intensive activities like cycling, swimming, dancing and walking.
5. Take time to rest. As with any workout routine, it's important to allow the body time to recover when it is sore. Running before the body is healed from a previous workout can cause more harm than good.
6. Find the right running shoes. Seek out shoes that are the right fit and match your foot type. Also change out running shoes every 300 to 400 miles.
7. Keep it consistent. The key to getting the most out of running or any exercise program is maintaining consistency. Don't attempt big leaps in mileage or speed; build up progression slowly. Also be sure to work out regularly; when possible avoid long periods of inactivity.
8. Listen to your joints. While running has not been shown to cause arthritis or direct damage to the knees, an existing injury can be exasperated with running or any weight-bearing activity. If suffering from new or abnormal pain, see your doctor.
Medicine in Motion (MIM) specializes in providing top quality sports medicine in Austin, Texas, for athletic individuals of all ages and levels. The staff at MIM believes active bodies are healthy bodies, therefore it is the office's goal to keep patients energetic and fit. To that end, MIM provides treatment of injuries and illnesses, including the use of physical rehabilitation; promotes healthy living with personal training and nutrition coaching; and offers comprehensive sports medicine evaluations to optimize health, activity level and sports performance. For more information or for questions regarding sports medicine in Austin, contact Medicine in Motion at 512-257-2500 or visit the website at http://www.medinmotion.com.