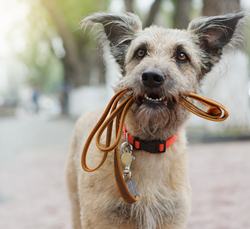 It's important to me to help others avoid this kind of tragedy.
WILTON, Conn. (PRWEB) April 22, 2018
With warm weather and long days ahead, people and their pets will be spending more time enjoying outdoor play.
Unfortunately, that puts the family dog at increased risk of a dangerous encounter with a car or a truck. Each year, more than one million dogs are killed on U.S. roads; even more suffer broken bones or internal injuries and require surgery or hospitalization. One woman who experienced this loss first hand is on a mission to remind other pet parents to take extra precautions at this time of year.
"I was a child when our family dog Lucy was hit and killed," said Jennifer Hill, President and CEO of Canine Company. "It was devastating to our entire family. It's important to me to help others avoid this kind of tragedy since most car-dog encounters can be prevented with a few simple safety measures:
1. Always walk your dog on a leash. "Even the best-trained dog may chase a running child or a ball that suddenly appears in the road," Hill says. "It only takes an instant – and, before you know what's happened -- your dog could be in the path of an oncoming car."
2. Use a leash light for night walks. "Even light-coated dogs are invisible at night, so if you live in an area where you must walk in the street, use a leash with an LED light. And always remember to walk facing traffic."
3. Don't leave your dog unattended in the yard. "Tie-ups and fences may seem secure, but we hear stories all the time of how a dog managed to slip his lead, jump over or dig under a fence in pursuit of a squirrel or other animal dashing through the yard."
4. Consider an underground pet containment system. "After we lost Lucy, my parents searched for a way to keep our other dogs safe. Regular fences didn't do the job. Then they discovered the Invisible Fence® brand pet containment system. It worked so well, they started our company to help other families keep their dogs safe."
5. Teach your dog the "come" command. "It's important that your dog consistently comes to you when called, whether you are in a public place or your own yard. You don't want to chase him if he takes off down the street."
About Canine Company
Born of a family's love for dogs, Canine Company has been helping families keep their dogs and cats healthy, safe and happy for 35 years. The company serves pet parents across New England, New York and New Jersey with the Invisible Fence® brand pet containment system and Manners dog obedience training, as well as mobile grooming and pet sitting in select markets. Its charitable Canine Love™ campaign supports pet rescue organizations and donates pet oxygen masks to first responders. For information, call 800-818-3647 or visit http://www.caninecompany.com.