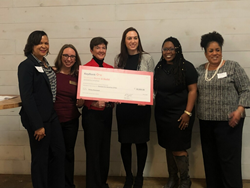 "VFA is a great partner and resource to help more women and people of color enter the ranks of entrepreneurship."
COLUMBUS, Ohio (PRWEB) April 24, 2018
Venture for America (VFA), a two-year fellowship program for recent college graduates, received a $30,000 grant from KeyBank Business Boost & Build program, powered by JumpStart, helping the non-profit grow the number of Fellows who identify as women and people of color that are working at Ohio startups and scaling companies.
The announcement came at the Venture for America Midwest Job Fair, which brings together more than 65 2018 VFA Fellows to interview with more than 40 startups and scaling companies from Columbus, Cincinnati, Cleveland, San Antonio, Birmingham, St. Louis and Pittsburgh. Fellows are recent or soon-to-be graduates from 80+ colleges and universities around the country, including The Ohio State University, Xavier University, Kenyon College, University of Cincinnati, University of Pennsylvania, Duke and Wesleyan among others.
"We are excited to support Venture for America. VFA is a great partner and resource to help more women and people of color enter the ranks of entrepreneurship," said Melissa Ingwersen, Central Ohio market president, KeyBank.
"I am delighted JumpStart saw Venture for America as a great partner to help advance the presence of women and people of color engaged in the Central Ohio business community," said Erika Pryor, VFA's Director of Cincinnati and Columbus. "As a result of this support, we can create more opportunities, resources and programming for current and future VFA Fellows to pursue their passion through entrepreneurship in Ohio."
Cincinnati, Cleveland and Columbus are among the 15 VFA cities in states with a commitment to economic development through entrepreneurship and talent attraction. VFA has sent 113 fellows to Ohio since the program began placing fellows in 2012. There are currently 52 VFA Fellows across Ohio, and more than 60 Ohio-based startups have hired VFA Fellows.
For more information on Venture for America, visit: http://ventureforamerica.org.
[About Venture for America] Venture for America is a fellowship program for enterprising recent college graduates to launch their careers as entrepreneurs. After five weeks of training, VFA Fellows spend two years helping to build a startup in a U.S. city with an emerging startup ecosystem where they learn how to contribute to a high-growth business. In addition, VFA provides the mentorship, network, and resources Fellows need to become entrepreneurs.  
Venture for America's mission is to create economic opportunity in American cities by mobilizing the next generation of entrepreneurs and equipping them with the skills and resources they need to create jobs.
[About KeyCorp] KeyCorp's roots trace back 190 years to Albany, New York. Headquartered in Cleveland, Ohio, Key is one of the nation's largest bank-based financial services companies, with assets of approximately $137.0 billion at March 31, 2018.
Key provides deposit, lending, cash management, insurance, and investment services to individuals and businesses in 15 states under the name KeyBank National Association through a network of approximately 1,200 branches and more than 1,500 ATMs. Key also provides a broad range of sophisticated corporate and investment banking products, such as merger and acquisition advice, public and private debt and equity, syndications and derivatives to middle market companies in selected industries throughout the United States under the KeyBanc Capital Markets trade name. For more information, visit https://www.key.com/. KeyBank is Member FDIC.
[About JumpStart Inc.] JumpStart unlocks the full potential of diverse and ambitious entrepreneurs to economically transform entire communities. For more information, visit http://www.jumpstartinc.org and follow @JumpStartInc on Twitter.