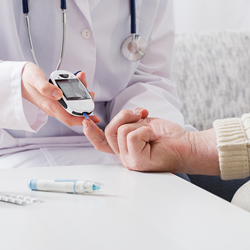 By focusing on those who are vulnerable to Type 2 diabetes, we are addressing disparities and making a profound impact on people's health at both the individual and community levels
LIVONIA, Mich. (PRWEB) April 23, 2018
Trinity Health will connect the people in its communities most at risk for developing Type 2 diabetes with resources for preventing the disease through a five-year, $7 million cooperative agreement from the Centers for Disease Control and Prevention (CDC). The effort will build on Trinity Health's existing Diabetes Prevention Program, a part of the CDC-led National Diabetes Prevention Program.
Trinity Health's Diabetes Prevention Program brings public and private organizations together to build infrastructure for the delivery of an evidence-based lifestyle change program. Individuals with prediabetes or those who are at risk for Type 2 diabetes throughout the health system's geographic footprint are eligible to participate. Trinity Health serves communities through 94-hospitals in 22 states and has the potential to reach an estimated 4.5 million people with prediabetes. With the new funding from the CDC, Trinity Health will:

Reach more people who are underserved in its communities, providing information and resources on the risk of developing Type 2 diabetes
Identify and connect underserved members of Trinity Health communities with trained lifestyle coaches who will work with them individually to improve eating habits, reduce stress, reduce weight and increase physical activity — all recognized as key preventive measures
Negotiate for coverage of the diabetes prevention program with employer health plans in affiliate states and explore other ways to reduce barriers to participation
Provide classes at no-charge to members of at-risk populations
"We are grateful to have CDC's support as we work to optimize wellness and health equity in the communities we serve," said Mouhanad Hammami, M.D., senior vice president, Safety Net Transformation, Community Health and Well-Being. "By focusing our efforts on those who are vulnerable to Type 2 diabetes, we are addressing disparities and making a profound impact on people's health at both the individual and community levels."
According to the American Diabetes Association, the diagnosis of diabetes costs the country over $245 billion per year and the CDC reports an estimated 84.1 million adults in the United States have prediabetes. Minorities and older individuals are disproportionally affected, experiencing the highest rates of Type 2 diabetes among Americans. These numbers continue to grow as overweight and obesity rates rise. Diabetes increases individual risk for other diseases including, heart disease, stroke, and hypertension.
The American Medical Association (AMA) will support the expansion of Trinity Health's diabetes prevention program. Specifically, the AMA will provide clinical practice change expertise, helping physicians implement processes that most effectively identify and screen at-risk patients for prediabetes. They will also provide resources to support the referral of patients with prediabetes to Trinity Health's diabetes prevention program.
"A staggering number of Americans are currently living with prediabetes and the vast majority are unaware they have the condition. That's why we're working with health systems, particularly those with strong influence and reach across the country, to help ensure more patients have access to, and enroll in, proven lifestyle change programs that have been shown to cut in half a participant's risk of progressing to Type 2 diabetes," said AMA President David O. Barbe, M.D.. "Through our collective efforts we will be able to help more American adults stave off or delay Type 2 diabetes to improve health outcomes, while also reducing associated health care costs."
In addition to increasing the resources providers can access to help patients prevent the onset of Type 2 diabetes, Trinity Health's diabetes prevention program includes efforts to raise awareness about prediabetes and the risk of Type 2 diabetes in the communities it serves.
Through this cooperative agreement, Trinity Health will partner with its local and regional facilities to expand specific at-risk communities' access to — and enrollment in — diabetes prevention programs. During year one, Trinity Health will target diabetes prevention program expansion to underserved communities served by:
Holy Cross Hospital (Fort Lauderdale, Florida)
Mercy Health (West Michigan), in partnership with Muskegon YMCA
Mount Carmel Health System (Columbus, Ohio)
Saint Joseph Health System (South Bend, Indiana)
Saint Joseph Mercy Health System (Southeast Michigan)
St. Peter's Health Partners (Albany, New York)
About Trinity Health
Trinity Health is one of the largest multi-institutional Catholic health care delivery systems in the nation, serving diverse communities that include more than 30 million people across 22 states. Trinity Health includes 94 hospitals, as well as 109 continuing care locations that include PACE programs, senior living facilities, and home care and hospice services. Its continuing care programs provide nearly 2.5 million visits annually. Based in Livonia, Mich., and with annual operating revenues of $17.6 billion and assets of $24.7 billion, the organization returns $1.1 billion to its communities annually in the form of charity care and other community benefit programs. Trinity Health employs about 131,000 colleagues, including 7,500 employed physicians and clinicians. Committed to those who are poor and underserved in its communities, Trinity Health is known for its focus on the country's aging population. As a single, unified ministry, the organization is the innovator of Senior Emergency Departments, the largest not-for-profit provider of home health care services — ranked by number of visits — in the nation, as well as the nation's leading provider of PACE (Program of All Inclusive Care for the Elderly) based on the number of available programs. For more information, visit http://www.trinity-health.org. You can also follow @TrinityHealthMI on Twitter.This release is supported by a 1705 Cooperative Agreement from the Centers for Disease Control and Prevention. Its contents are solely the responsibility of the authors and do not necessarily represent the official position of the Centers for Disease Control and Prevention, the US Department of Health and Human Services, or the US government.