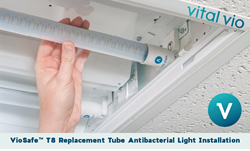 Companies and consumers are quickly adopting Vital Vio's innovative, effective, and versatile option to add a layer of protection against deadly germs. We are just getting started."
TROY, N.Y. (PRWEB) April 21, 2018
Vital Vio, Inc., the healthcare solutions company that has reinvented disinfection with its patented VioSafe™ White Light Disinfection™ technology, today announced it has been awarded yet another patent for its continuous disinfection technology that powers its germ-killing LEDs.
Vital Vio was granted this latest patent for its "Single Diode Disinfection" technology, which allows for single component integration into LED light engines, enabling compatibility across a wide range of industry standard LED light fixtures and other products.
CEO Colleen Costello, who co-founded Vital Vio in 2012 after her grandmother contracted MRSA during a hospital stay, said: "This Single Diode Disinfection technology patent, building on our existing robust intellectual property portfolio, with additional patents pending, is affirmation of Vital Vio's long term commitment to and success in driving innovation in continuous disinfection technology. Infection prevention is one of the most vexing and costly global health challenges. Companies and consumers are quickly adopting Vital Vio's innovative, effective, and versatile option to add a layer of protection against deadly germs. We are just getting started."
Vital Vio's technology is proven effective - by independent research and case studies - to safely and continuously kill bacteria and other harmful organisms including: MRSA, Salmonella, E. coli, and C. diff. growing on interior surfaces.
Vital Vio partners with existing lighting industry leaders to incorporate its patented White Light Disinfection technology into their product offerings. A range of antibacterial lights, manufactured by existing licensing partners and powered by Vital Vio technology, are currently available to commercial and retail customers.
Ellumi Lighting™, a line of bacteria-killing under-cabinet lights for retail customers, powered by Vital Vio's newly patented technology, was recently launched by partner Evolution Lighting, a leading residential lighting manufacturer. Homeowners can purchase Ellumi under-cabinet lights via HomeDepot.com ,Wayfair.com, Houzz.com, and Amazon.
Code 3® produced a first-of-its-kind bacteria-killing Patient Compartment Light that also is powered by Vital Vio's newly patented technology. These antibacterial LEDs, which protect patients and crew in ambulances and other emergency service vehicles, will be showcased by Code 3 at the upcoming 2018 FDIC conference in Indianapolis, Indiana.
Partner Visa Lighting recently announced its plans to launch several new lighting fixtures, powered by Vital Vio's patented technology, "that will visually complement many spaces, including athletic training facilities, hospital patient rooms, dining areas, daycare facilities, public restrooms, hotel suites, college dorms and more—basically any space where bacteria gathers and you can turn on a light." These new luminaires will be unveiled at LightFair International 2018 in May.
Additional products are scheduled to move to market in the coming year as a result of existing and new partnerships, while ongoing research and innovation are driving future technologies and partnerships.
The U.S. Patent & Trademark Office granted U.S. Patent No. 9,927,097 to Vital Vio for its "Single Diode Disinfection" technology on March 27, 2018. The patented technology was developed by Vital Vio at its headquarters in the Rensselaer Technology Park, Troy, NY. Vital Vio has several additional patents pending.
About Vital Vio
Vital Vio is a healthcare solutions company that has reinvented disinfection, providing facilities managers and home-owners new tools to continuously kill germs indoors with the flip of a light switch. The company's VioSafe™ White Light Disinfection™ technology is suitable for continuous human exposure. Used in combination with traditional intermittent cleaning in hospitals, homes, public spaces, and workplaces, Vital Vio's technology multi-tasks to safely, effectively, and continuously kill bacteria and other harmful organisms on indoor surfaces, while also illuminating the room. Vital Vio has been awarded several U.S. Patents for its innovative technologies and products, with numerous more patents pending. Research has shown that the company's LED's and other product offerings dramatically reduce contamination and infection risk for its customers. More information at vitalvio.com.
Media inquiries: Media(at)vitalvio.com | Customer inquiries: Info(at)vitalvio.com
For more information on Vital Vio go to: https://vitalvio.com/