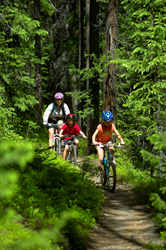 In Grand County, we can help you achieve your summer goals, whether it's on the water, in the mountains or on the greens—all in one place.
GRAND COUNTY, Colo. (PRWEB) April 23, 2018
Though Colorado is certain to receive a few spring snowstorms, it feels as if summer is right around the corner. This blissful season means long, sunny days full of outdoor adventures, but the fleeting nature of this season means that you need to make a plan to achieve everything on your summer checklist. In Grand County, we can help you achieve your summer goals, whether it's on the water, in the mountains or on the greens—all in one place. Here's your guide to the ultimate Colorado summer, Grand County style.
Conquer the Colorado River
The headwaters to the mighty Colorado River are located in Grand County, and there's no better place to experience the rush of whitewater. Whether you choose to cruise on a raft or in a kayak, there's a line that will suit your style, from raging class IV and V rapids to mellow eddies.
Slide on Snowflex For Summer Tubing at Snow Mountain Ranch
Do you believe sliding down a snow-covered hill is only a winter adventure? Think again! At Snow Mountain Ranch, you can tube year-round. Grand County's 300-foot-long summer tubing hill is just the third of its kind in the country, and the first ever in the state of Colorado! Complete with key elements like a conveyor belt and protective equipment, this is an family-friendly adventure you won't soon forget.
Complete the Winter Park Adventure Quest
For a high-flying adventure, head to Winter Park. This aerial adventure park and climbing experience features 24 separate challenge elements on a self-guiding system. You can pick and choose which elements to tackle using your self-guided "smart belay" system connected to your harness that allows you to easily clip on to different routes. It's perfect for aerial daredevils and cautious climbers alike.
Let the Pros Do the Work
In Grand County, we have some of the most experienced guides in the state, just ready to share some knowledge with you. We'll take you in the woods and on the rivers for hunting and fishing tours; in the waters of the Colorado for rafting and kayaking tours; over the mountains to breathtaking scenic views with Jeep and ATV tours; on the roads with a certified tour guide and even into the air with hot air balloon tours. No matter your style of travel, we have a tour for your taste.
Find Your Own Big Fish Story
Colorado is known for its excellent fly fishing and Grand County has some of the best fly fishing in the state with 1,000 miles of streams, 1,000 acres of high mountain lakes and 11,000 acres of reservoirs. Grand County's abundant resources accommodate fishing of all kinds with trout and salmon making for the most highly prized catches. No matter where you choose to dip your line, you're sure to have a great fish tale to tell.
Hit the Trails on Your Bike…or on Your Feet
Mountain biking is one of the most popular summer adventures in the state and Grand County has multiple destinations to explore, from Winter Park and Granby Ranch to Devil's Thumb and the town of Kremmling. The Fraser Valley alone offers more than 600 miles of diverse trails, with 90 percent of the trails accessible from a town. Whether you're a cross-country king or downhill diva, there are plenty of trails on which you can practice your pedaling prowess.
Prefer exploring on your own two feet? Some of the most beautiful hikes in the state are located in Rocky Mountain National Park, and other locations in the hundreds of miles of trails available to hikers in Grand County. From challenging overnight backpacking treks into pristine wilderness areas to leisurely strolls through a wildflower-filled valley, you can choose your own path in Grand County.
Smile and Say Om
After a long day in the fresh mountain air, there's no better place to settle your mind, body and spirit than in Grand County. With expert instructors leading practices in serene mountain settings like Grand Lake and Winter Park, you'll be able to find a flow that works for you. Looking for a new challenge? Try stand-up paddle board yoga at Devil's Thumb Ranch.
Get on the Green
Looking to experience one of the best rounds of golf in your life? Try your hand at one of the stellar courses in Grand County. Home to four distinctive golf courses, you'll find that your golf balls fly farther in the thin air, 8,000 feet above sea level. As for your putting...there are also excellent instructors to help with your short game.
Summer Dog Sled Rides
Dog sled tours are one of the most popular adventures in the winter with the dogs taking guests on thrilling sled rides on the snow. Now, you can experience the rush of dog sledding in summer with Dog Sled Rides of Winter Park. The dogs pull a cart rather than a sled, but the excitement remains the same with this unique summer adventures.
Drive the Divide
For a full-throttle adventure, explore the vast terrain in Winter Park's Arapahoe National Forest with an ATV Continental Divide Tour. Ride 15 miles up the historic Corona Pass road to the Continental Divide and Corona Pass at nearly 12,000 feet in elevation. You'll get to drive your own machine on the tour while following a qualified guide, affording breathtaking panoramic views of the Continental Divide, Rocky Mountains and Fraser Valley. Want to strike out on your own? You can rent ATVs, OTVs and motorcycles to explore some of Grand County's favorite trails. Prefer to let someone else do the driving? Jeep Tours are also available.
Get Your Cowboy On
There's no better place to channel your inner cowboy than Grand County. Home to four dude and guest ranches ranging from the oldest continuously operated ranch in the state to one of the highest awarded ranches in the country, you'll be able to find the perfect blend of rustic and luxe to make your "home on the range" dreams come true.
Soar Through the Air
If you're looking for an adrenaline-filled trip through the high-country air, look no further than a zip-line adventure in Grand County. From lines that will zip you 40 mph, almost 80 feet off the ground to more family-friendly options, you'll soar through the sky and be privy to a new perspective on the Rocky Mountains.
Soak Away Your Stress
Not all adventures have to be adrenaline-filled. The natural hot springs at Hot Sulphur Springs Resort in Grand County have been enjoyed for thousands of years, so why not take an afternoon to soak your cares away? With 22 mineral indoor and outdoor hot pools and private baths as well as a swimming pool in the summer, there's no better way to end a fun-filled day in Grand County.
From adrenaline-filled adventures to spectacular scenery, there's no better place to complete your summer checklist than in Grand County. You may even have to start a new list. To learn more and start planning your trip to Grand County, go to http://www.visitgrandcounty.com.