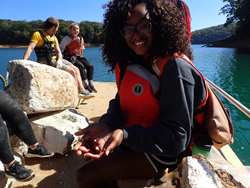 "When you visit the Tennessee River Valley, choose to be one of our champions."
CHATTANOOGA, T.N. (PRWEB) April 22, 2018
The Tennessee River Valley enjoys an abundance of public lands and waterways. Stretching across seven states, the aquatic biodiversity of the watershed has earned it the nickname "Amazon of the North." The river's water sustains a myriad of purposes, and of one these is growing rural economies by spurring entrepreneurial and creative enterprises. Micro-craft breweries, outfitter guide services, birding tour guides, bike and kayak rental shops, water based attractions, vacation rentals, campgrounds, and visitor services are drawing young people and private investment dollars to rural counties that often struggle with aging populations and shrinking tax bases. The miles of waterways have always been a habitat for aquatic wildlife; a recreational resource for paddling, boating, rafting, sailing, and fishing; an economic corridor for transportation and movement of goods, commercial fisheries, and agriculture. But the greatest attraction of the river is the beauty that inspires people to visit.
Events on Earth Day and Public Lands Day prod communities into taking action at least twice per year. But it is not enough. This year, the NBA put their support behind the Green Energy All-Star engagement campaign which recognizes that the real champions are the individuals and organizations who are taking action in their everyday lives. The campaign cheers on collective environmental actions—even small steps—when taken together as a team can create large-scale impact
The Tennessee River Valley Stewardship Council is recognizing our local champions with 3 cheers:
The first cheer is to the Tennessee Valley Authority, a great partner and champion for the river every day. From managing flooding and navigability on the waterway to assisting local conservation groups, TVA directly and indirectly is improving community and economic sustainability in urban, rural, and metro communities.
The second cheer goes to our visitors who practice Leave No Trace and Tread Lightly when they travel the region. Every year, millions of visitor come to enjoy nature in this outdoor paradise. Obeying rules for trail hiking and biking; outdoor ethics for backcountry camping; and conservation practices when fishing or boating is an imperative in protecting fragile habitats from erosion and destruction.
The final cheer is to the businesses that are leaders in making positive environmental impacts through education or by participation in "green" programs for marinas, parks, and campgrounds.
Keeping the river and shorelines healthy is a team effort for people who play, work, and live in the watershed. While most efforts are local, the net impact is regional. "What happens upstream impacts the conditions of the watershed downstream. The TRV Mapguide is a resource to locate businesses and organizations that care about clean water and open green spaces in their communities. It is these types of communities that are attractive to families and businesses, and will lead to greater economic opportunities for the region," says spokesperson, Julie Graham. "When you visit the Tennessee River Valley, choose to be one of our champions."