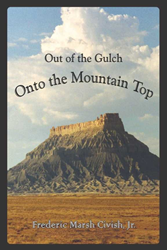 "This intriguing autobiography is not just the story of one man, but the story of America during its most important years of the 20th century." - Robert Fletcher, CEO of Strategic Book Publishing and Rights Agency
(PRWEB) April 26, 2018
Frederick Marsh Civish, Jr. is older than the Empire State Building, the Golden Gate Bridge, and Hoover Dam. Born in a small Utah mining town in 1931, the author's life is one of history and achievement.
Amazon reviewers applaud his book. One wrote, "This is great story written by a great man. I would definitely recommend this book to everyone."
Others added:
"An account of a man's life who lived before any of the modern conveniences that we take for granted. He goes into personal details of his struggles and triumphs and that makes for an interesting read. Am looking forward to reading some of his other books." – S. Hanson
"I wish I had been born a few decades sooner and lived through the author's era. Though times were tough, the experiences the author described made me feel nostalgic and miss those days. Reflections of the author's feelings and thoughts were honest and extremely relatable. As the author is living this crazy adventure, with more experiences than you can shake a stick at, history is happening all around. I much enjoy learning about history this way, when it is accompanied by someone's perception, thoughts, and feelings … The author is older than The Empire State Building, but it seems he still has a lot of chutzpah. Love it! I related with this book on so many different levels and learned some stuff. Good read!" – Stefanie Hall
When Pearl Harbor was attacked in 1941, Civish was out duck hunting. In 1945, he saw the Sunnyside Mine explosion, which killed 23 miners.
After joining the Navy during the Korean War and then living in California, in 1962, he moved back to "the sticks and become one of them 'thar' hicks. I lived in Salt Lake until 2012, when I got tired of the traffic and the smog, and moved north to Ogden, Utah, where my current home is, about a quarter of a mile from huge mountains reminiscent of those where I was born and raised."
The breadth of his working life includes being a sailor, coal miner, card mechanic in a casino, hotel manager, substitute teacher, and marketer.
According to other reviewers, the book is "a thorough introspective into his mind and his long life, with fascinating historical details not found in history books." – Richard Church
"I had the pleasure of meeting this very funny man at a book signing. Not only is this book a very good read, the man is great too. I wish I could sit down and have lunch just to talk with him. Hear his stories and just laugh … I really enjoyed this book and can't wait to read more from him." – Jennifer S. David
"In 'Out of the Gulch, Onto the Mountain Top,' Frederic Marsh Civish, Jr. looks back on his life, especially the many jobs he had, and the way he broke with organized religion and alcohol addiction … The Latter-day Saints, a.k.a. Mormons, had a huge influence on his life too. Personal convictions versus church policies eventually led to a divorce, and an escape to agnosticism … Quite funny are the appendices with lists of words known and popular in the 20th century, now completely obsolete, and a list of inventions in Civish's lifespan, ranging from astronaut to hamburger." – Henk-Jan van der Klison
About the Author: Frederic Marsh Civish, Jr. grew up in Carbon County, Utah, named for its many coal mines in the Wasatch and Book Cliff Mountain ranges. Retired from a long life of work experiences and raising six children, he is the author of the historical novel "The Sunnyside War," about the 1922 United Mineworkers Strike. He also wrote "Losing Weight for Life: Eating What You Like on the RMR Diet." Active in his community, he is involved in numerous social and charitable activities.
Author website: https://bullofthewoodsbooks.com
"This intriguing autobiography is not just the story of one man, but the story of America during its most important years of the 20th century. We are proud to be the publisher." Robert Fletcher, CEO of Strategic Book Publishing and Rights Agency
OUT OF THE GULCH, ONTO THE MOUNTAIN TOP (ISBN: 978-1-68181-559-6) is now available for $22.50 and can be ordered through the publisher's website:
http://sbprabooks.com/FredericMarshCivishJr or at Amazon.com or Barnesandnoble.com.