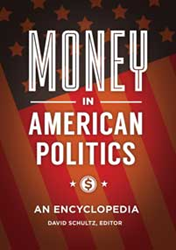 If anyone wants really to understand how money will impact the 2018 and 2020 elections, Money in American Politics offers answers
SAINT PAUL, Minn. (PRWEB) April 23, 2018
Hamline University professor David Schultz, noted expert on election law and American politics, announces the forthcoming publication of his latest book –Money in American Politics: An Encyclopedia.
Published by ABC-CLIO, Money in American Politics is the first encyclopedia ever on the role of money in American politics. According to Professor Schultz: "This encyclopedia is the most comprehensive project thus far investigating the various ways money impacts American politics. It explores topics ranging from political donations and expenditures, lobbying, the Supreme Court and campaign finance law, and the specific way groups, individuals, and organizations use money to secure their objectives. The book concentrates mostly on recent trends and elections to understanding the impact of money on politics, including discussion that takes one though the 2016 elections."
Money in American Politics includes 160 essays written by nearly 80 experts in the American politics or law. They cover major court cases, specific recent elections, concepts, people, and trends that describe money's use and impact in American politics. States Professor Schultz: "The essays are individually informative on a range of topics of interest to the public, journalists, and experts in the field, but collectively one can read the encyclopedia as providing a portrait on what we know and not about who has money, how they use it to leverage influence in our political system, and what laws are permitted to regulate its use. If anyone wants really to understand how money will impact the 2018 and 2020 elections, Money in American Politics offers answers."
Schultz is a professor of political science at Hamline University. He has taught classes on American government and election law for more than 25 years. He is also a three-time Fulbright scholar and winner of the Leslie A. Whittington national award for excellence in public affairs teaching, David Schultz is the author and editor of more than 35 books and 150 articles on American politics and law and is a frequently quoted political analyst in the local, national, and international media.