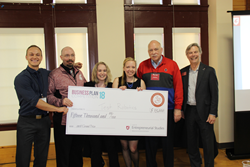 If you have an entrepreneurial dream, you have the opportunity and resources to make it happen at WSU.
PULLMAN, Wash. (PRWEB) April 23, 2018
Washington State University's Center for Entrepreneurial Studies hosted its annual Business Plan Competition on Friday, April 20, when 22 top student startup teams from across the university competed to showcase their innovative talents and entrepreneurial skills. Additionally, five startup teams from across the state of Washington competed in the high school division.
The five best college teams were awarded prize money, with Test Robotics winning $15,000 for first place. Test Robotics has created a tool-cleaning robot that automates the process of cleaning composite tools used in aerospace manufacturing, reducing human contact with chemicals used in the manufacturing and cleaning process.
The top four high school teams received prize money as well, with Clara Jane Studios from Pullman High School winning first place and $5,000. Clara June Studios create hand-made, wheel-thrown pottery ceramics that are sold at regional farmers' markets and retail stores. The studio also offers pottery lessons.
"Both the college and high school student teams presented creative ventures with the potential to have a real and meaningful impact in our region and the world," said Marie Mayes, CES director. "Our entrepreneurs are working on ideas that include a backpack for trail hikers which has a gel insert to keep you cool, a line of durable men's workwear bringing military fabrics to the civilian market, smart home technology to enhance laser tag gameplay, and a system that delivers glaucoma medicine in a contact lens. We are really excited about the future of innovation and entrepreneurship at WSU."
New era of WSU entrepreneurship
At the gala dinner, guest speaker Chip Hunter, Carson College dean, described the launch of several new programs in the Center for Entrepreneurial Studies (CES), including the Amazon Catalyst program that supports faculty and student innovation aimed at solving real-world problems. CES will launch the Jones Milestone Accelerator in June, and the Terry Sparks Program, an introductory entrepreneurship experience for underclassmen, this fall, he said.
To accommodate rapidly growing entrepreneurial efforts across the university, the CES established a new entrepreneurial work space within the Commons Building. In addition, Allison Sellers was hired to facilitate the expansion of entrepreneurial growth at WSU and manage student-facing entrepreneurship programs within CES.
The CES provides several events to help students prepare for the Business Plan Competition, including teaming events titled Partnering and Pitches, and a six-week Resource Nights speaker series. The CES also helps facilitate student entrepreneurship clubs and organizations.
"If you have an entrepreneurial dream, you have the opportunity and resources to make it happen at WSU," said Hunter.
New Prize, Winning Teams Announced
Academic and industry professionals judged teams based on:

Presentation.
Development of a solution for a customer problem.
Value proposition.
Competitive advantages.
Market and sales strategy.
Management.
Financials.
Investment analysis.
The teams also were evaluated on the merit of their ideas and business plans.
In addition to sponsoring the grand prizes, the Herbert B. Jones Foundation sponsors merit awards worth $2,500 each for best written plan, best presentation, best technology venture and best social impact business.
This year, Boeing Employees Credit Union sponsored a new $5,000 merit prize for best FinTech solution. FinTech is an emerging financial service sector that provides financial solutions through software applications and modern technology. This prize is awarded to the team with the best financial technology product or service solution, regardless of overall placement.
Another new prize this year was the M2 Up and Coming Prize, awarded by CES staff to the team that has shown notable forward momentum in their venture.
All awards were announced at Friday's gala dinner.
The winning teams are:
College:
1. Test Robotics – A tool-cleaning robot that automates the cleaning process for composite manufacturing tools.
2. Protium Innovations – A lightweight hydrogen fueling system for unmanned aerial vehicles.
3. BeeToxx – A food additive for bees that prevents damage to individual bees and colonies caused by pesticides used in agriculture.
4. Laser RevEng – A adaptation of smart home technology that improves gameplay in laser tag.
5. That's A Wrap – A machine that creates wrappers for cannabis cigars out of cannabis waste product.
6. Vein Vision – A combination tourniquet and vein illuminator tool for use in emergency medical services that stabilizes veins and makes them easier to access.
High School:
1. Clara June Studios – A pottery studio creating hand-made, wheel-thrown ceramics.
2. Chloe's Lavender – A boutique lavender grower selling lavender products including soaps, lotions and sachets.
3. Kits by Zschoche – An educational, STEM toy building kit for young children.
4. Howlets Seam – A custom tailoring service for COS players and individuals in the entertainment industry.
5. Gratitude – A juice and smoothie bar located in Kelsey Creek.
Merit Prizes:

Best Written Plan: Protium Innovations
Best Presentation: ElectroActive
Best Technology Venture: MoleCURE
Best Social Impact Business: BeeToxx
BECU Best FinTech: Close to Campus (CTC)
M2 Up and Coming Award: Candor Clothing
Media Contacts:
Meagan Garrett, consultant, Brand Venture Consulting, 509-475-0028, meagan(at)brandventureconsulting(dot)com
Marie Mayes, director, Center for Entrepreneurial Studies, WSU Carson College of Business, 509-335-5628, mmayes(at)wsu(dot)edu
Sue McMurray, assistant director of communications, WSU Carson College of Business, 509-335-7578, sue.mcmurray(at)wsu(dot)edu