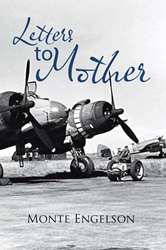 Readers have been immensely moved by "Letters to Mother," stating "It begins so softly and beautifully like a family story, then accelerates so quickly into wartime life that it takes your breath away."
DUNCAN, B.C. (PRWEB) April 24, 2018
Author Monte Engelson grew up in British Columbia during the onset of World War II surrounded by family who eventually took up the call to serve. Like many who grew up during this time, he learned of the adversity those members of his family faced through their personal stories. It was only after his grandmother's passing that a collection of letters sent to her by his parent's during the war were found. These letters provided a new look at the struggles and obstacles they faced through their own words. What was revealed was a fascinating story of perseverance, courage and love.
"Letters to Mother," shares the story of Engelson's father, Harold Engelson, as he transitioned from police officer in a remote town, to heroic navigator on a two man dive bomber, for the Royal Canadian Air Force, as detailed in personal letters written between 1935-1945. Through these letters, and Engelson's own research and insight, readers are painted a picture of what life was like for young married couples and families in British Columbia while having to make the difficult and brave decision to serve their country.
"Letters to Mother," is an enthralling tale that provides a captivating story through intimate letters to help readers gain an understanding of what the world was undergoing during this extraordinary time in history. Readers will take away a detailed account of British Columbia's involvement during World War II and gain a better perception of the difficulties families faced during as a result of their sacrifices.
Readers have been immensely moved by "Letters to Mother," stating "It begins so softly and beautifully like a family story, then accelerates so quickly into wartime life that it takes your breath away." To learn more please visit: http://www.monteengelson.com.
"Letters to Mother"
By Monte Engelson
ISBN: (hc) 978-1-5434-4914-3 (sc) 978-5434-4915-0 (eb) 978-1-5434-4916-7
Available on Amazon and Xlibris Publishing
About the author
Monte Engelson was only 3 years old when his father joined the Royal Canadian Air Force. He remembers awaiting his return with his mother and then finally welcoming him home after the German's surrender. Upon discovery of the letters his parents had sent, he set forward on a journey to learn more about his father's squadron along with the challenges and loss they experienced. The truth that he discovered was an account of bravery and love that he wanted to share with the world. He wrote this book for readers of all ages who are interested in learning more about this period in history from an intimate perspective and hopes they will then be able to comprehend the impact and consequences war had on those who lived through it.
Review Copies & General Inquiries:
LAVIDGE – Phoenix
Lauren Dickerson
480-998-2600
ldickerson(at)lavidge(dot)com