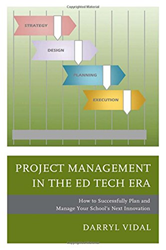 "We could have used this book in the 90s; now you can take advantage of this wisdom for tomorrow's children" Jeffrey P. Felix EdD
SAN DIEGO (PRWEB) April 23, 2018
In his first book of the MAPIT® Series "FAIL TO PLAN, PLAN TO FAIL - How to Create Your School's Education Technology Strategic Plan," released March 2017, 20-year Ed Tech veteran consultant Darryl Vidal published the MAPIT® Education Technology Strategic Planning methodology. An abridged version of more formal and voluminous strategic planning methods, customized for complex education technology initiatives ranging in size from several thousands of dollars, to well over $100 million.
Now in May 2018, Vidal finishes the two-part MAPIT® series with the publication of "Project Management in the Ed Tech Era - How to Successfully Plan and Manage Your School's Next Innovation." As the second part of the series, instead of focusing on strategic planning, and enterprise architectures of the first book, this book focuses on the specifics of tactical and implementation planning of technology projects in K-12 schools.
Defining budgets, resources, timelines, for tightly scoped and scaled implementations, and controlled by communications plans, change management plans and risk management plans. All detailed in each chapter with real-world examples, templates and hints for how to execute and even important perspectives for the project manager, on how to deal with managing complex projects and a variety of resources.
Although the methodology of planning and management can be overlaid on any vertical or market, this book focuses on specific examples of education technology projects.
Today's Ed Tech projects include: BYOD (bring your own device) initiatives, 1-to-1 computing, virtual classrooms, WIFI saturation and high-level applications such as Decision Support and Learning Management Systems. These systems require vast infrastructure in order to support high-level collaboration and critical thinking learning models - not to mention state and federal standards.
Implementing these high-level systems and technologies, along with the professional development required to make these projects successful and impactful for student learning requires careful planning and disciplined execution.
Vidal states, "Having a technology strategic plan is only the first of multiple phases in the life of an Education Technology initiative. This book is a deep dive into ed tech project planning (different from strategic planning) and project management.
It provides step-by-step instructions for developing any type of ed tech implementation plan including the triple constraint: scope, time and resources (budget).
This book provides the most streamlined methods for defining, developing, documenting, and executing any Education Technology project. It provides the methods to insure integrity and accuracy in the planning phase, and control and communication in the execution phase. It defines how projects start and end, what to do when plans change, and all the milestones and control points in the middle. And it details how you - the project manager - can execute it all, on time and on budget.
After reading this book, you will have the methods, templates and examples, in order to successfully deliver your school's Education Technology innovations, but more importantly, this book will give you the insights of how to become a successful Education Technology Project Manager."
With a foreword written by Dr. Jeffrey P. Felix, retired Southern California school superintendent for over three decades, he states, "We could have used this book back in the 90s: now you can take advantage of this wisdom for tomorrow's children."
Project Management in the Ed Tech Era is Vidal's fifth book dedicated to Education Technology. His previous books: N3XT Practices and VISION (co-authored with Michael Casey), Confucius in the Technology Realm and FAIL TO PLAN, PLAN TO FAIL have received critical acclaim and are required reading for Education Technologists.
The book is now available on Amazon (click here).
See Darryl Vidal's Education Technology blog (click here).