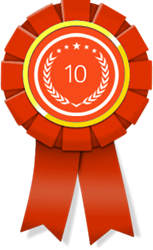 CHICAGO (PRWEB) April 27, 2018
In its latest round of monthly awards, 10 Best SEO has named Straight North as the Best Chicago SEO Agency for April 2018.
This award category is important because of its relevance to the SEO industry. Search engine optimization is one of the biggest fields in the world of digital marketing in today's day and age. With Google's search engine processing more than one trillion searches each and every year since 2016, it is difficult to underestimate how extensively search engine optimization is an important part of success in marketing.
10 Best SEO is a group of experts in the field of SEO that founded the group back in 2012. Since then, it has provided services for some of the fastest-growing businesses on INC 500's list and consistently pumped out ranking lists of what firms can be considered the best in all of search engine optimization.
For April 2018, list of winners involved the best firms offering SEO and digital marketing services to companies in the Chicago, Illinois area. Straight North and SEOValley finished first and second, respectively, and are both located in the heart of Chicago. Zadro Web landed in third place. It is located right outside of the city limits of Chicago in Schaumburg, although most of its clients are concentrated in Chicago.
The best SEO agency, Straight North, was created in 2008. It has given assistance to countless clients in their efforts to ascend the ranks of popular search engines like Google and Yahoo. Kevin Duffy and David Duerr created the company, and they boast more than fifty years of combined experience in the world of search engine optimization. This includes years they spent working inside and outside of Chicago, which gives Straight North an extensive amount of experience to support its strategies.
SEOValley is also located in Chicago, and it maintains between fifty and 250 employees. SEOValley is arguably one of the largest of the leading SEO agencies in the city of Chicago, it is known to boast an approval rating of 98 percent.
Zadro WEB is a top SEO agency located just minutes outside of Chicago in the city of Schaumberg. The pros at Zadro WEB arguably make it one of the best SEO Agency bids in the United States of America. It has also been called a top Chicago SEO firm because of its work with countless clients both within and outside of the area, though most are the most prominent companies in Chicago.
Learn more about the 10 Best SEO's monthly award winners at http://www.10bestseo.com.