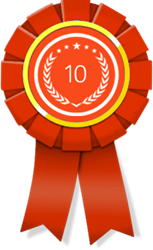 SAN FRANCISCO, Calif. (PRWEB) April 30, 2018
Recently, 10 Best SEO chose the winners of its Best Los Angeles SEO Agency awards for April 2018, shining the spotlight on Directive Consulting, RankLab, Websites Depot.
Recognizing leaders in the field of SEO is essential, given consumers' propensity for using the Internet for shopping, research and other activities. As more and more people use the Internet and devices to access the Internet, online marketing becomes increasingly popular. Traditional forms of marketing like television commercials, radio advertisements, and newspaper listings have essentially been eliminated from contention in terms of competitiveness in the field of marketing.
However, consumers who are interested in finding out about which online marketers are considered the best in their field have a unique challenge. They are often hard-pressed to find unbiased sources regarding objective rankings in the world of digital marketing, particularly in that of search engine optimization. That's why 10 Best SEO recently began publishing information about the best such service providers in particular areas as well as around the entire United States.
On the company's April 2018 list, Directive Consulting came in first place. Directive Consulting was named the best SEO agency for several reasons, although the most compelling one is the fact that it has been trusted by some of the most prominent companies in Orange County, California. As a leading SEO agency, Directive Consulting strives to optimize visibility on the world wide web as a means of tying business owners to potential buyers. This is yet another reason behind the remarkable success of the professionals working for Directive Consulting.
Second on this month's list was RankLab, a top SEO agency based in Santa Monica, California. Though the company is located close to Directive Marketing, RankLab is an entity of its own. It has disrupted the world of online marketing through its effective means of figuring out digital chemistry between the companies that hire RankLab to take care of its digital marketing and visibility needs and the websites where their ads will be shown. This synergy helps companies around the nation become far more popular than what was previously possible throughout the short history of search engine optimization and digital marketing.
Coming in third was Websites Depot, which is arguably one of the best Los Angeles SEO businesses. It is the only company on the list that is based in Los Angeles, California. This give Websites Depot an advantage over other firms in California because it is consistently tasked with helping its clients gain visibility over all others across the Golden State.
For more information about the Best SEO Agency award winners, visit http://www.10bestseo.com.