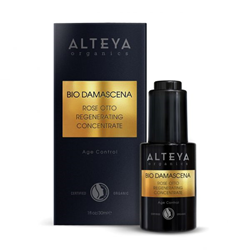 London, UK (PRWEB) April 22, 2018
During the 2018 Natural and Organic Products Europe Expo in London, Alteya Organics, a multiple award-winning all-organic beauty company with its own organic rose fields, distillery, laboratory and skin care manufacturing facilities, announced the establishment of an UK office and warehouse. Beginning on May 15, Alteya will have the ability to serve its UK retail customers and partners directly from its local facilities based in London.
"We are excited to establish an office in one of our most important markets in Europe. This will allow us to offer fast delivery, better service and lower pricing in the UK. Our extensive experience in Europe combined with our focus on creating the finest certified organic beauty care will be a perfect fit for the UK beauty market," said Daniel Kolev, Alteya's Co-Founder and Managing Partner.
Alteya is also participating in the 2018 Natural and Organic Products Europe Expo this weekend in London (April 22-23). At the Expo, Alteya will be introducing its newest product, the Organic Bio Damascena Rose Otto Regenerating Concentrate. After a successfully launching in the US, and already winning a high-profile award at Expo West in California last month, this product will now be available in the UK, and later on in the rest of Europe. For more information about this and Alteya's other products, visit http://www.alteya.co.uk.
"We think our new Rose Otto Regenerating Concentrate will find a lot of beauty fans in the UK," said Hristo Popov, Alteya's European Sales Manager. "It is based on a unique combination of pure organic functional skin care ingredients, including our rose otto and white truffle, which are known to help rejuvenate skin and improve its regeneration and elasticity. All customer feedback so far has been amazing."
About Alteya Organics
Alteya Organics, a multiple award-winning beauty company endorsed by the US Organic Consumer Association, operates its own certified organic rose farms in the heart of the Bulgarian Rose Valley, grows the organic Rosa damascena, distills essential rose oil (rose otto) and rose flower water, and creates organic skin care based on rose otto, according to world's strictest organic standards, including the USDA NOP. Key company products include Alteya's Organic Bulgarian Rose Waters, Rose (Otto) Oils, Skin Care, Personal Care, and Mom and Baby lines.