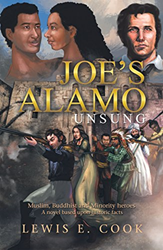 According to Joe, all races and religions were represented at the Battle of the Alamo.
HOUSTON (PRWEB) April 23, 2018
At the Battle of the Alamo, less than two hundred volunteers battled five thousand trained soldiers for thirteen days, during the Texas Revolution. Lieutenant Colonel William Travis' slave, Joe, was the only male survivor.
In "Joe's Alamo: Unsung," Lewis E. Cook tells Joe's story in this novel, based on historic facts.
"According to Joe, all races and religions were represented at the Battle of the Alamo," Cook said. "Yet, their contributions were intentionally dismissed. According to my research, the famous battle cry, 'Remember the Alamo,' was probably first said by a woman."
An attorney and former Texas history teacher, Cook highlights the lesser known heroes of the battle, including women, Muslims, Buddhists, Blacks and other minorities owed recognition for their contributions and sacrifice to the state of Texas and the rest of the country.
"This battle was meant to be symbolic of hopelessness and certain death for anyone who opposed General Antonio Lopez de Santa Anna's reign of terror," Cook said. "Instead, it became a slogan for worldwide courage in battle against overwhelming odds."
"Joe's Alamo"
By Lewis E. Cook
ISBN: 978-1-5320-2070-4
Available at iUniverse and Amazon
About the author
Lewis Cook practiced civil litigation, probate and criminal law. He worked as an immigration attorney for a former U.S. Immigration Commissioner, as a banking and finance attorney in Dallas and was a Texas assistant attorney general. Always a writer at heart, he was raised in Arkansas and now lives in Houston. To learn more about the author and his book please visit: https://www.iuniverse.com/Bookstore/BookDetail.aspx?Book=740803.
###
Review Copies & Interview Requests:
LAVIDGE – Indianapolis
Lindsey Gobel
317.435.2116
lgobel@lavidge.com