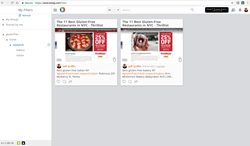 With Kloojj® I can organize all of the information I find online with a few keystrokes and easily find it again in seconds.
SCOTTSDALE, Ariz. (PRWEB) April 25, 2018
Kloojj®, the social bookmarking app for clipping web-based videos, just released a new feature that helps you organize everything you find online. Kloojj® users can now bookmark web pages using Kloojj's unique nested tagging system. "Kloojj® tagging is a huge improvement over the traditional hashtag because in addition to the benefits of typical hashtags, Kloojj's unique hashtags make it easy to organize and find clips." says Co-Founder Ted Haig. Kloojj® uses colons ':' in their hashtags to create nested subfolders in your Kloojj® account. For example, #Travel:Bucketlist:CostaRica looks like the following in a user's Kloojj® account:
Travel
Bucketlist
CostaRica
Clicking a tag at any level filters a user's Kloojj® feed to only show Kloojjes with matching tags. For example, click on 'Travel' to show all the Kloojjes with tags that start with #Travel:*, Click on Bucketlist to display all Kloojjes with tags that start with #Travel:Bucketlist:*, etc. Combining search with tag filtering gives users the ability to find any web clip or video clip in seconds. With Kloojj's quick-type tag feature, tagging a Kloojj® typically take only a couple keystrokes. It's the fastest, easiest, and best organizing system ever and combines all the social networking features you love. "Finally, a social network that's both social and useful," says Co-Founder David Hirschfeld.
Users are excited to get rid of all their open tabs, to share a web page with a friend through Kloojj®, and to chat so easily about clips they find online. "I use to keep tons of tabs open to read later because I didn't want to lose them which made my computer run really slow. With Kloojj®, I can save and close those tabs without worry because when I'm ready to read them, I can find them so easily," says one user. Another user says, "I love that I can share web pages and video clips and converse with team members about the topics I'm researching online way more easily and without cluttering up my email inbox.
Now users can Kloojj® (bookmark) web pages, videos, clips inside videos and online images from YouTube®, Instagram®, Vimeo®, Google® and many other websites.