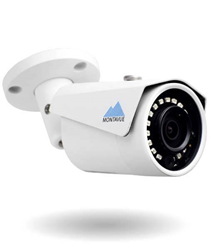 "We are proud to offer some of the highest quality 4MP cameras on the market, we felt like the introduction of our lite series just gives our customer another option that may fit better within their budget"
MISSOULA, Mont. (PRWEB) April 23, 2018
Montavue Surveillance currently offers some of the best 4MP home surveillance equipment on the market, now they are introducing a more affordable lite consumer line. Their current line of 4MP systems are a few of the only ones on the market that feature 2K resolution recording at true 30 frames per second. Now, Montavue is introducing their new lite series of cameras. These cameras are still the same high quality IP67 rated bullet and dome cameras, except they feature 4MP video that records at 20 frames per second.
These new cameras have specs that line up with cameras and systems that you will see offered by well known brands in the big box stores such as Costco or Home Depot. The price of the lite series will be about 10-15% less than Montavue's current lineup of cameras, making their cameras more competitive than the competition's, even in warehouse clubs. "We are proud to offer some of the highest quality 4MP cameras on the market, we felt like the introduction of our lite series just gives our customer another option that may fit better within their budget," said Montavue President and founder, Cody Gordon.
The lite series package offered on Montavue's website still features their 4K NVRs which are compatible with all of the other cameras sold by Montavue, as well as any other ONVIF cameras on the market. This gives the consumer the option to save a little money on their system without forfeiting all of the advanced features a Montavue system has to offer.
The lite series MTB4104L and MTE4104L bullet and dome cameras feature the same wide angle 104° field of view as the rest of Montavue's fixed lens 4MP cameras. They also feature the same color night optics that can see up to 130ft when in complete darkness. Most importantly they still come equipped with advanced IVS (intelligent video surveillance) features and top of the line H.265 compression, many other 4MP cameras on the market that record at 20fps feature H.264 compression, H.265 allows recorded footage to take up 50% less space on the hard drive.
Montavue is excited to continue to grow their catalog of products. They look to provide their customers with honest marketing and a wide variety of cameras. Keep checking their website as they plan to keep adding new products throughout the summer of 2018.
Go to Montavue's website at: https://montavue.com/
Check out their 4MP camera packages at: https://montavue.com/product/complete-ip-camera-systems/