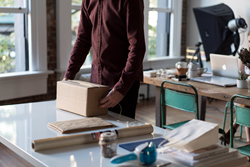 We enjoy offering free resources to help companies compete in this challenging environment. The retail, wholesale and licensor communities have been good to us and we like to give something back. -Jim Lewis, CEO at Enhanced Retail Solutions
NEW YORK (PRWEB) April 24, 2018
For close to 16 years, the team at Enhanced Retail Solutions has offered businesses a one stop source for POS analytics and demand planning supported by a suite of interlinked software tools, and consulting services in order to optimize wholesale and retail inventory.
With e-commerce increasing its share of retail sales, more and more wholesalers are interested in tracking that business at their omni-channel retail partners. Many vendors struggle to discern where to find that those sales. Very often the e-commerce business is listed as a store number – but which number is it?
Enhanced Retail Solutions used its knowledge to create a free chart broken out by retailer.
"We enjoy offering free resources to help companies compete in this challenging environment", says Jim Lewis, CEO at Enhanced Retail Solutions. "The retail, wholesale and licensor communities have been good to us and we like to give something back."
Interest for the suite of free tools has spread exponentially across the industries, downloaded by suppliers (small to Fortune 500), venture capitalists, universities and even retail employees. This interest was something CEO Jim Lewis took note of in 2007 when he decided to create the ERS Retail Merchant Class, which is still being taught today both publically and specifically tailored for various companies. Proud to be presenting their peers with such well received value, ERS then released their Retail Primer eBook in 2013 – since updated and available on Amazon, Apple iBooks Store and the ERS website. Each of these industry specific offerings have been runaway successes and have provided ERS with a thought leadership reputation for insightful content sharing.
About Enhanced Retail Solutions LLC:
Enhanced Retail Solutions is software and consulting firm specializing in Retail Analysis and Demand Planning for manufacturers, licensors and their retail partners. ERS' state of the art software tools and consulting deliver critical data quickly, easily and cost effectively, adding over one hundred million dollars to their clients' bottom line. ERS' broad customer base includes industry leaders in the electronics, consumer products, apparel, footwear, home textile, toy, home décor, home improvement, housewares, jewelry and food industries. Headquartered in New York City, Enhanced Retail Solutions has offices in the Dallas, TX and development in the US, Cork, Ireland and Delhi, India. For more information, visit http://www.EnhancedRetailSolutions.com.