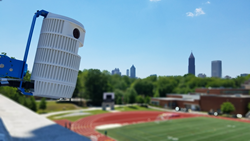 "Integrating Pixellot's technology with WinPower's foothold in the Chinese professional sports industry will power a new experience for both athletes and coaches," said Tao Wang, General Manager at WinPower.
Tel Aviv & Beijing (PRWEB) April 23, 2018
WinPower, a subsidiary of China Sports Media, a full-service sports media company, is now distributing Pixellot's advanced video coaching solutions to the rapidly growing Chinese professional soccer market including China's Super League (CSL).
Pixellot leverages the power of deep learning and computer vision to produce thousands of hours of soccer, basketball, football, hockey, lacrosse, and more for players, coaches and fans. WinPower holds the official distribution rights to CSL data. The combination of WinPower and Pixellot creates a powerhouse of video and statistics to improve player performance and power data applications. Pixellot's video coaching solutions are successfully deployed by top league soccer clubs in Europe.
"Integrating Pixellot's technology with WinPower's foothold in the Chinese professional sports industry will power a new experience for both athletes and coaches," said Tao Wang, General Manager at WinPower. "We are excited to offer CSL clubs and coaching teams the same technology that LaLiga, EPL and other top league clubs already successfully deploy."
Pixellot offers leagues and clubs high quality and fully automated sports production systems to provide coaching teams with access to real-time or post-event game video. The high quality and fully automated video production solution enables production of quality videos with advanced editing, clipping and sharing tools, allowing them to focus on individual players and plays during matches and training sessions..
"WinPower, and its parent company, China Sports Media, have strong connections with organizers, media, and sponsors in the professional soccer sector, making them an ideal distribution partner for the rapidly growing Professional Chinese soccer market," said Alon Werber, CEO at Pixellot. "We are proud that our technology will serve the teams and coaches of the Super League clubs."
The Jiangsu Suning Football Club is the first team to receive a Pixellot system.
About Pixellot
Pixellot offers automated sports production solutions that provide affordable alternatives to traditional video capture, production and distribution systems for professional and semi-professional sport events. Pixellot's patented technology solution streamlines production workflow by deploying an unmanned multi-camera system in a fixed location, with additional angles as required, to cover the entire field, offering a stitched panoramic image. Advanced algorithms enable automatic coverage of the flow of play and highlight generation. Pixellot was founded at 2013 by Dr. Miky Tamir and Gal Oz, bringing extensive experience in broadcasting and media technologies, as well as in sports technology. Pixellot systems are deployed by broadcasters, production companies, clubs, sports portals and coaching solution providers around the globe. For more information: http://www.pixellot.tv
About WinPower and CSM
WinPower is a subsidiary of China Sports Media (CSM), the pioneer in China's sports industry. Managing all major Chinese football properties, it has become the best full-service sports agency in China and an important player in the global market, representing the highest level of rights operation and world feed production in China. CSM has covered a wide business in rights operation, signal production and sports marketing.
CSM unprecedentedly possesses all the top Chinese football leagues' media rights including the Chinese National team, AFC Competitions, EAFF Cup, CFA Cup, and also some international major properties such as Bundesliga, J league, K league and A-league. CSM offers tailored and integrated marketing plans to top international properties, clubs and different media forms by providing advertisement, exposure via different forms. The company also offers sports marketing consultation and analysis of the sports market to draw up the marketing plan for the sponsors. CSM now has CSL's virtual advertising rights and AFC, Premier League, Bundesliga's LED commercial development rights.