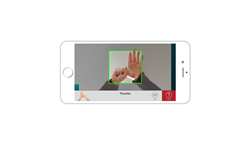 turning hand hygiene into a game
Dublin, Ireland (PRWEB) April 23, 2018
Description of the SureWash Pocket APP
The SureWash Pocket app teaches you World Health Organisation hand hygiene guidelines. To use the app lay the phone on a table and the front facing camera will measure your hand hygiene skills. Your teacher Jimmy the Germ will show you how to improve. Passing each level builds your skills and level 5 is the test, can you remember the method without prompts?
Impact of SureWash Pocket on Hospital Acquired infections
80% of infections are transmitted on the hands. Studies show that the WHO method is the most effective way to kill germs on hands but it can be difficult to learn. SureWash Pocket makes this training fun and accessible to all. In hospitals 50% of infections are preventable by better hand hygiene practices.
Why SureWash Pocket was developed
While working in hospitals we met cancer and dialysis patients that wanted to reduce their risk of catching infections but they had very few tools to learn better hand hygiene. So, we developed the free SureWash Pocket app to allow them to learn effective hand hygiene using the scientifically proven WHO method. We believe that better quality hand hygiene will help prevent infections in hospitals and in home care.
Customer Testimonial
"Our Students returned for their immersion and were able to use the SureWash GO hand hygiene trainer. They became very competitive and really learned the motions of proper hand hygiene.  The muscle memory sticks with you and many students, myself included, now find ourselves washing our hands the proper way every time.  One student said to me today, I need to keep practicing on the SureWash Pocket app so I don't forget.  This is our goal as educators and SureWash has created a fun way for students to engage, learn, and fight the spread of infection." 
—  Mary Showstark, Educator, 
Yale PA online program, Yale Medical School, New Haven, CT, USA
Where can I get SureWash Pocket
SureWash Pocket is free on the Apple APP Store and the Google Play Store.
Company Description
SureWash (http://www.surewash.com) develops hand hygiene training and monitoring solutions for healthcare organisations. SureWash's mission is to reduce the impact of preventable infections through technology. The company spun out of Trinity College Dublin, Ireland in 2010 and has been delivering technology solutions and interactive training games that improve the effectiveness of hand hygiene.