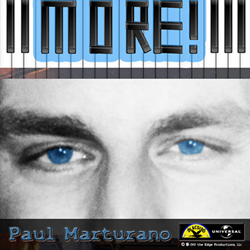 "If you like Billy Joel, Ben Folds, Adele or Bruce Springsteen, you will like the serious side of Marturano that he puts forth on MORE!"
LOS ANGELES (PRWEB) April 24, 2018
Ten years after he pulled off one of the biggest national television pranks in front of 33 million viewers, Paul Marturano, 42, of New Hope, PA, signed a record deal to distribute his next EP, MORE!, with Blacbird/Universal Records. Marturano humorously serenaded judge Paula Abdul with a self-penned parody that aired on American Idol in 2008. MORE!'s official release date is May 18, 2018 but it can be ordered now on iTunes and Google Play at http://www.paulpiano.net
Marturano is a seasoned stage performer, playing over 100 solo piano comedy shows, dueling piano shows and full band shows per year. According to Marturano, "MORE! (his new EP) has a more serious tone, but there might be one good comedy tune on it."
"As a songwriter, I am either trying to make you think, make you cry, make you dance or make you laugh. There is something for everyone on MORE!," said Marturano.
Marturano teamed up with nine-time Grammy Award Winning Producer, Joe "The Butcher" Nicolo, to release MORE! in 2018. Nicolo, a former producer at Columbia Records and former owner of Ruffhouse Records, previously worked with some of the most successful recording artists in the industry, including The Rolling Stones, Will Smith, Aerosmith and Bob Dylan. He won Grammys for his work with James Taylor's Hourglass, Jazzy Jeff, The Fugees, and Lauryn Hill. He was also nominated for a Grammy for his production of Billy Joel's album, River of Dreams. He was recently honored with a plaque on Philadelphia's Walk of Fame on Broad Street outside of the Kimmel Center. https://joenicolo.net/
"It was a pleasure making this record with Paul," said Nicolo. "His songs come from the heart. The satisfaction we had making this record comes through in the recordings. He's an underappreciated talent."
Marturano has performed at Citizens Bank Park in Philadelphia, PA, to a crowd of thousands playing a preshow concert and post-show concert to the Billy Joel/Elton John top grossing Face to Face Tour. He sat in at the Iridium Jazz Club in New York City with the Legendary Les Paul, performed on many local and national television shows and has opened shows on the piano for many comedians such as Jackie the Jokeman Martling. He played on the USS Midway prior to Frank Sinatra, Jr. at an event honoring Lee Iacocca and was also part of the team that earned a Daytime Emmy Award behind the scenes of the popular television show, Who Wants to be a Millionaire with Regis Philbin. He is a longtime voting member of The National Academy of Recording Arts and Sciences (NARAS) and is a co-founder of an Animal Rescue in Pennsylvania.
Marturano does have a serious side, and if you want to know who he is, you should pick up his albums, MORE!, Reflection, and Buck County, as well as read his book 33 Beliefs for a Happy Life.
The songs he penned for MORE! are quite heartfelt and masterfully produced.
"If you like Billy Joel, Ben Folds, Adele or Bruce Springsteen, you will like the serious side of Marturano that he puts forth on MORE!" added Marturano. "I love writing serious music, and I still love doing the comedy, too. I had a fun time working with Joe Nicolo on MORE! He is an amazing talent."
Marturano is known for his rock n roll piano style, his soothing ballads and also for his clever comedy songs. Whether he is performing solo, a dueling pianos show, or a show with his band, Marturano's live show is full of energy and is always a good time!
On his newest album, Marturano plays keyboards and provides vocals. He is joined by James Darlington on bass, Mark Kain on guitar Grant Maloy-Smith on guitar, Jay Davidson on saxophone, Oz Brown on violin and Frank Romond on drums. It was recorded at Joe's Garage. It was mixed and mastered by Joe Nicolo.
MORE! Is being released by Blacbird/ Universal Records and available on Universal Record's Digital Platform and their list of vendors in May. Marturano's previous works are currently available on CDbaby, iTunes, Spotify, Applemusic, and Marturano's website http://www.paulpiano.net
Paul Marturano on Facebook https://www.facebook.com/paul.marturano
Paul Marturano's Music Page on Facebook https://www.facebook.com/Paul-Marturano-Musician-and-Author-224417691913/