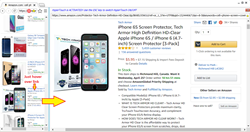 ONTARIO, Canada (PRWEB) April 24, 2018
The Shopper 21 browser uses unique, patent-pending HyperTouch™ technology, which allows viewers to preview websites or product descriptions without clicking anything. With the HyperTouch™ button, a user simply hovers over a website in a list of search returns, or a product on a shopping site like Amazon or eBay, and a preview appears in a separate pane. This allows the user to quickly examine a list of options, without having to click to a new page, then click back when they realize it isn't what they want. The HyperTouch™ feature saves time and prevents the stress of getting lost or trying to navigate back to one of several recently-browsed pages. The ParallelSearch option also allows users to search multiple shopping sites at once for the same item—no need to open multiple tabs to compare prices and features.
Shopper 21 has other exciting tools, allowing users to save a configuration of websites and share them with friends or colleagues, or open certain configurations at certain times of day—like weather and news sites first thing in the morning. Magic Copy maintains a list of favorite products from all browsers including Google Chrome or Mozilla Firefox, and the Visual History lets users watch their browser history like a movie, so there's no need to click on dozens of sites trying to find one thing from last week.
"Shopper21 is one of the fastest browsers in the world, with one of the widest sets of features," says V. Vasiljev, Marketing Director for Shopper 21. "For many people, Shopper 21 will become their main browser, while others will view Shopper 21 as their 'second browser' to solve complex problems that current browsers cannot cope with. Our browser is great for all internet users, but those with professional and complex search activities will find it especially valuable. It provides a streamlined search experience for a variety of people—shoppers, students or academics working on research projects, and professionals conducting research for work."
The Shopper 21 browser is free to download for personal use. Those interested in a business license, advertising opportunities or who have other questions about the browser, will find more information on the company's website, http://www.Shopper21.com .