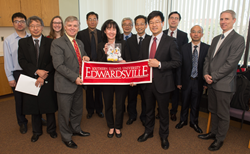 Students can study at CIT for three semesters, and come to SIUE for two years, then return to CIT for one semester, earning a degree from both CIT and SIUE
EDWARDSVILLE, Ill. (PRWEB) April 23, 2018
The Southern Illinois University Edwardsville School of Engineering (SOE) hosted Changshu Institute of Technology (CIT) on Friday, April 20, as the institutions seek to establish faculty and student exchange programs.
SIUE Chancellor Randy Pembrook greeted the visiting delegation and engaged in working meetings to establish a formal partnership agreement along with representatives from International Affairs, the School of Engineering, International Admissions and the English as a Second Language Program at SIUE (ESLi).
"One of the programs we are working on is a mechatronics and robotics engineering cooperative bachelor's program," said Keqin Gu, PhD, distinguished research professor of mechanical engineering, and director of the PhD Program and New Program Development. "Students can study at CIT for three semesters, and come to SIUE for two years, then return to CIT for one semester, earning a degree from both CIT and SIUE.
"A relationship with CIT would contribute substantially to the diversity and international exposure of the SIUE student population, and create opportunities for SIUE students and faculty members to gain international experience."
The CIT delegation consisted of Genhua Zhang, professor, vice president for academic and international affairs; Xuefan Jiang, professor, director of international cooperation and exchanges office; Qingfu Hong, professor, dean of the Foreign Language School; Wenbin Xu, professor, deputy dean of the Computer Science and Engineering School; and Fuxing Zhu, professor and deputy dean of the Economics and Management School.
The program is part of the American Association of State Colleges and Universities (AASCU) and the China Center for International Educational Exchange (CCIEE), which offers the Sino-American 1+2+1 Dual Degree Program. It provides Chinese undergraduate and graduate students the opportunity to study at an AASCU member institution such as SIUE. The Chinese Ministry of Education recognizes the program as a "Program of Excellence." AASCU has provided support for programs for 16 years. Currently, approximately 100 Chinese institutions participate by sending 300 students to 30 U.S. institutions annually.
SIUE hopes to have a formal agreement executed soon. Gu believes a relationship with CIT is desirable, because the university is situated in an economically highly developed area of China, and there is substantial demand for students to earn a degree from a U.S. institution. CIT is a provincial public university, which is characterized by polytechnic, application technology and teacher education. It is located in the center of the Yangtze River Delta. CIT was established in August 1958 and was originally known as Suzhou Teachers College.
The SIUE School of Engineering offers one of the most comprehensive and affordable engineering programs in the St. Louis region with eight undergraduate degrees, five master's degrees and two cooperative doctoral programs, all housed in a state-of-the-art facility. Students learn from expert faculty, perform cutting-edge research, and participate in intercollegiate design competitions. Companies in the metropolitan St. Louis area provide students challenging internships and co-op opportunities, which often turn into permanent employment. All undergraduate programs are accredited by their respective accreditation agencies.
-SIUE-
Photo (L-R): Liang Ge, International Affairs; Keqin Gu, distinguished research professor, SIUE SOE; Rachel Webb, SIUE lead international immigration advisor; SIUE Chancellor Randy Pembrook; Wen-Bin Xu, deputy dean, CIT School of Computer Science and Engineering; Mary Weishaar, executive director, SIUE International Affairs; Hong Qingfu, dean CIT School of Foreign Languages; Jiang Xue Fan, director, CIT Office of International Cooperation and Exchanges; Gen-Hua Zhang, CIT vice president; Cem Karacal, Dean SIUE SOE; Fuxing Zhu, vice dean, CIT School of Economics and Management; and Jim Monahan, director of SIUE International and Graduate Admissions.