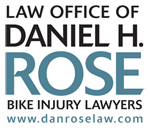 Bike often, bike safe
SAN FRANCISCO (PRWEB) May 04, 2018
The Law Office of Daniel H. Rose is proud to once again sponsor the San Francisco Bicycle Coalition's and Bike East Bay's Bike To Work Day (BTWD), May 10, 2017.
As part of National Bike Month, tens of thousands of San Francisco Bay Area bicyclists celebrate BTWD by biking to and from work and participating in numerous other bike-related activities. While many normally bike to work on a regular basis, for many this is a joyful celebratory introduction or reminder of the healthful benefits of this most environmentally friendly means of transportation and recreation. Data reveals that lasting commuter bike ridership increases significantly following the event.
In the East Bay, BTWD is organized by Bike East Bay, a leading Northern California bicycling advocacy organization. The mission of Bike East Bay is to promote healthy, sustainable communities by making bicycling safe, fun and accessible. Through advocacy, education, and community engagement, Bike East Bay energetically and enthusiastically works in support of its overarching goals of increasing the number and diversity of people biking, overcoming barriers to bicycling through programs educating all road users, and building strong and collaborative relationships with representation from all East Bay communities.
In San Francisco, BTWD is organized by the San Francisco Bicycle Coalition (SFBC), one of this country's largest bicycling advocacy groups. The SFBC has for more than 45 years been transforming San Francisco streets and neighborhoods into more livable and safe places by promoting the bicycle as a primary means of daily transportation.
The Law Office of Daniel H. Rose is a prominent personal injury law firm known throughout California for the successful advocacy of its San Francisco bicycle accident lawyers. Mr. Rose is a longtime supporter of the San Francisco Bicycle Coalition, Bike East Bay and other Bay Area bicycle coalitions and has represented numerous injured bicyclists, pedestrians, and motorcyclists statewide.
LAW OFFICE OF DANIEL H. ROSE
One Sansome Street, Suite 3500
San Francisco, California 94104
Tel: (415) 946-8900 Fax: (415) 221-0892