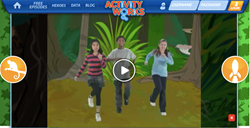 We have a long term goal of being able to provide access to our programming at no charge across the nation and it is only through partnerships with like-minded corporations such as Novo Nordisk that we will ultimately be able to make that happen." - Tom Sullivan, CEO Activity Works
PRINCETON, N.J. (PRWEB) April 25, 2018
Activity Works (activityworks.com), an interactive on-demand physical activity video series for K-4 classrooms designed to reduce childhood obesity, is now available to hundreds of more classrooms in Philadelphia, Newark and Trenton thanks to a new three year grant from Novo Nordisk, a global leader in diabetes care. With new classroom activations having begun in January 2018, Activity Works is already on track to be implemented in approximately 500 classrooms in these new markets, with aspirations to grow to more than 1,500 active classrooms by year three.
"Since its inception, our goal every year has been to empower as many children and families through physically-based wellness curricula and programming," said Tom Sullivan, CEO of Activity Works. "We have a long term goal of being able to provide access to our programming at no charge across the nation and it is only through partnerships with like-minded corporations such as Novo Nordisk that we will ultimately be able to make that happen."
Building a Healthier Future Together
This Activity Works partnership with Princeton NJ based Novo Nordisk is a perfect match for the healthcare company as it ties into its long standing commitment to defeat diabetes and other serious chronic conditions for improved health outcomes and make life better for children in at risk communities such as Trenton. Novo Nordisk's Ready, Set, Healthy! initiative focuses on reducing the rate of type 2 diabetes by increasing knowledge and access to healthy, affordable foods, physical activity, as well as providing information about healthy lifestyle options for families in Trenton.
"Diabetes continues to steadily increase, driven by a number of trends including the prevalence of obesity. Our partnership with Activity Works allows us to bring lessons about healthy lifestyles to children and their families, helping them understand the importance of physical activity to maintain a healthy weight and ultimately contribute to the decline of diabetes in our communities," said Genevieve Jean-Bart Fadayomi, Associate Director, U.S. Corporate Sustainability & Social Impact, Novo Nordisk.
Activity Works' core mission is to improve the attention, focus, physical fitness and social harmony of students by getting them up and moving to the program's fun–filled episodes which combine core curricula content and physical activity. Through its on-demand web-based platform available at activityworks.com, teachers can choose from full-length 10 minute culturally inclusive episodes enabling children to get moving quickly and effectively in a classroom setting in between coursework. Surveys of educators and principals have revealed these episodes to improve attention, focus, fitness, behavior and even cognitive and academic performance.
Over 1 Million Episodes Watched and Counting
Invented in 2008, Activity Works engages children to be more physically active via short bursts of movement and energy in over 4,000 classrooms across the nation in other cities such as Atlanta, Houston, and New York City. Every Activity Works episode provides a period of moderate to vigorous physical activity recommended by the U.S. Centers for Disease Control as the minimum for fitness efficacy over time. Due to its engaging and non-competitive approach to physical activity, students often don't realize they are learning while burning an average of 50 calories and moving 1,000 steps (a half-mile) in each session. Activity Works also includes scientifically-designed episodes include "Food on the Farm", "Endangered Species of Africa", "Dinosaur Discovery", "Dance from Brazil", and many more, and have been loved by more than 500,000 student participants.
For more information about Activity Works or to learn how to become involved as a corporate partner visit activityworks.com or call 609-806-1003.
Activity Works Media Contact:
Shakira M. Brown
1-888-436-0033 ext. 1
sbrown(at)activityworks(dot)com
About Activity Works
Founded in 2009, Activity Works ([activityworks.com) launched with the idea to enable kids in grades K-4 to participate in classroom-based activity breaks where they would follow the movements of peers in entertaining, animated videos that also helped them learn curricula-based concepts. Today Activity Works (AW) brings learning and exercise together by providing elementary school teachers with an on-demand classroom series of 10-minute videos featuring exercise and dance movement bursts that helps maximize academic performance and meet state mandates for physical education. The programming is designed to optimize student health in target cities in which traditional physical education programs have been reduced and where recess is limited. Six and three-minute episodes were recently introduced to give teachers more options to fit physical activity into the school day at various times.
AW strives for EVERY classroom across the country to exercise to fun, multi-sensory episodes. It currently offers over 40 episodes featuring wholesome content, including many in Spanish, to encourage children to live a healthy lifestyle. Much of the curriculum focuses on the core subjects including language arts, science, math and social studies but also includes episodes centered around cultural arts and dance, physical education and health. Notably, AW was recognized as a national partner in former First Lady of the United States Michelle Obama's Let's Move! Active Schools program. Activity Works inspires kids to feel more vibrant, productive and connected to their peers in the classroom and around the world.
Novo Nordisk in the US:
Novo Nordisk, a global healthcare company, has been committed to discovering and developing innovative medicines to help people living with diabetes lead longer, healthier lives for 95 years. This heritage has given us experience and capabilities that also enable us to help people defeat other serious diseases including obesity, hemophilia and growth disorders. We remain steadfast in our conviction that the formula for success is to stay focused, think long term and do business in a financially, socially and environmentally responsible way. With U.S. headquarters in New Jersey and production and research facilities in four states, Novo Nordisk employs nearly 6,000 people throughout the country. For more information, visit novonordisk.us, Facebook and Twitter.